Museum News – May 2019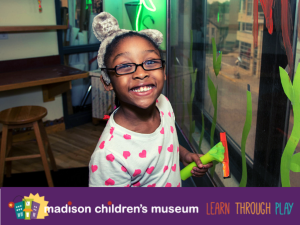 Access for Everyone campaign runs May 16–June 16
Every child deserves the opportunity to learn through play at the museum, regardless of economic, cognitive, or cultural barriers. Our Access for Everyone programs are designed to lower barriers to visiting and participating in our museum and our community. Starting on May 16 we launch a campaign to educate the public about our access programs—and raise funds to support them. Watch your inbox for details coming soon!
---
Featured Events

Saturday, May 4, 10 a.m.–4 p.m.
In honor of the galaxy's geekiest holiday, Madison Children's Museum presents a day of Star Wars and space-science revelry! Featuring a visit from R2D2, a Lego Star Wars exhibit, themed crafts, a scavenger hunt, and much more! All activities are FREE with museum admission, while supplies last. Costumes are encouraged.
View the full list of activities.

Adult Swim: Robots & Unicorns
Friday, May 17, 6–10 p.m.
Get ready for mythical mayhem and futuristic fun as Adult Swim combines two of the most popular sci-fi and fantasy tropes ever: Robots & Unicorns! Featuring live music, themed crafts, robotics demo, DIY claymation, and more. Costumes are encouraged.
View the full list of activities.

Friday, May 24, 5:30–7:30 p.m.
Bring your baby for a special baby date night at the museum where there will be just as much playful fun for parents as kids! Activities will include a baby craft keepsake, baby races, a babies & bubbles dance party, and "mocktails" for parents! The evening will conclude with a dramatic reading of K is for Knifeball: An Alphabet of Terrible Advice, by Jory John and Avery Monsen.
View the full list of activities and get tickets.
---
Other Programs

Wednesday, May 1, 5–8 p.m.
On the first open Wednesday night of each month, we invite our entire community to enjoy the museum for free. 
Free Family Night is a great time for first-time visitors to enjoy the museum and is a popular time for older children to return to visit their favorite exhibits. 
Free Family Night is an Access for Everyone program. Learn more about Free Family Nights.
---
Exhibits News

Come back to the roof to enjoy the sun… and the wind!
Phase I of the Rooftop Ramble redo, Forces of Nature, will be complete and the rooftop will reopen for visitors on Thursday, May 16. Come check out the new Forces of Nature exhibit, which explores renewable energy, and greet our rooftop animals in their new locations.
On Saturday, May 18, join us for special programs on the rooftop to celebrate the reopening and the completion of the first part of our 2019 rooftop remodeling project.  At 11 a.m. learn about saving energy and using renewable energy in MaGicEnergy, an exciting and fast moving magic show with Bob Kahn, and at 1 p.m. join in the Bubble Bonanza.
---
Meet the Museum Staff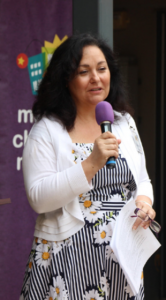 Sandra Bonnici, Associate Director of Education, Diversity, & Inclusion
As the associate director of education, diversity, & inclusion, Sandra has the longest job title in the museum! But given the breadth of her work, that's fitting.
Sandra oversees the museum's visitor engagement staff, including our discovery guides, volunteers, and supervisors. And she coordinates our access, diversity, equity and inclusion work, which includes managing our broad-reaching Access for Everyone programs. Access for Everyone includes discounted admission programs for under-resourced communities and more specialized offerings such as the Teen Work Force program and programs to serve families affected by Autism Spectrum Disorder (ASD) and/or sensory challenges. Perhaps most important, she helps develop internal processes and strategies that ensure the museum is on a path to becoming an increasingly inclusive and welcoming organization.
Sandra's role in the organization has grown since she joined us as a part-time outreach specialist in 2000, but she has always focused on inclusion and equity, both within the museum and in her volunteer work in the Madison community. Her favorite part of working at the museum is "the amazing, dedicated team of professionals who ensure we are open and welcoming each and every day."
---

Fewer than 300 tickets available for Saturday!
The American Girl Benefit Sale, held this year on Saturday and Sunday, July 20 & 21,  offers great deals on authentic American Girl dolls, accessories, and books. All benefit sale inventory is generously donated by American Girl and Mattel, and all proceeds support the work of Madison Children's Museum and American Girl's Fund for Children. Learn more about the sale and buy tickets for Saturday.
---
Become a Museum Member!
Madison Children's Museum membership offers more than just a year of unlimited admission; it's your family's invitation to exclusive events, exciting classes, special discounts, and more. And you can take your membership on the road, where you'll get free or half-priced admission to hundreds of museums and science centers. Learn about these and other benefits and pick your membership level online.
Discounted Memberships
---
Drop-In Programs, May 2019
Mondays
Tuesdays
Wednesdays
Thursdays
Fridays
Saturdays
Sundays
Visit our website for a full list of programs and events.
---
Madison Children's Museum connects children with their families, their communities,
and the world beyond through discovery learning and creative play.