MCM Roadshow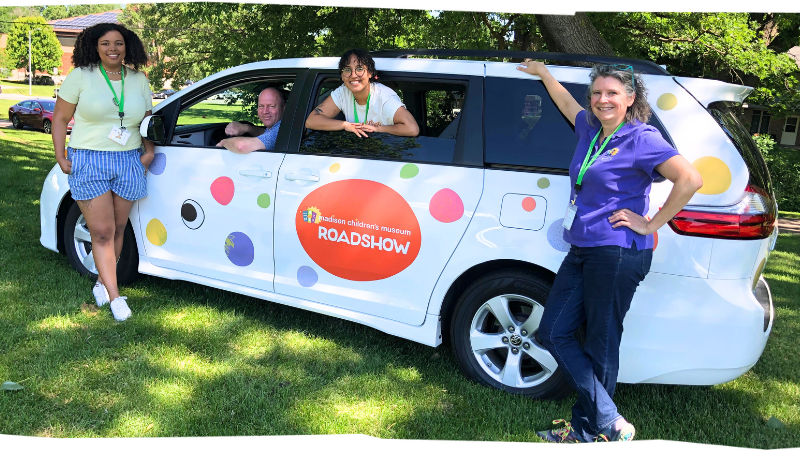 The Madison Children's Museum Roadshow brings mobile exhibits and maker activities to community events in Madison and the surrounding area. Create a miniature work of art to take home and get inventive with creative fort and structure building activities.
Upcoming events:
The MCM Roadshow is primarily a summer seasonal program. Roadshow events are open to the public unless otherwise noted.
August
August 2, Parks Alive! Teresa Terrace/Hammersley Park, 5-8pm
August 5, Sugar Maple Music Festival, noon-3 pm
August 7, Parks Alive! Allied Park, 5-8pm
August 9, Parks Alive! Brentwood Park, 5-8pm
August 14, Parks Alive! Elver Park, 5-8pm
August 19, Africa Fest, McPike Park, 10 am-1 pm
August 20, Magic Pride Festival, Warner Park
August 23, Parks Alive!, Meadowood Park
August 25, Habitat for Humanity event, Kennedy Heights Community Center, 4 pm
August 31, YWCA Block party, 5-7pm
September
September 10,

Good Neighbor Gathering, Brittingham Park
September 12, Madison Public Market Kickoff, 5-7 pm
September 16, Half Pint Resale, 11:30 am-1:30 pm

September 16,

Urban Triage Harvest Festival,

3:30-6:30 pm

September 23, United Cerebral Palsy

Family Frolic, 4-7pm, McGraw Park in Fitchburg 
Major support for Roadshow is provided by
Jessica & Jim Yehle
Additional support is provided by
Madison South Rotary Foundation
Outreach/Inreach
In addition to bringing programs out into the community, MCM welcomed 1,200 students from MMSD's Summer Arts Academy during June-July 2023.  Over the course of 8 private group visits, each student enjoyed a free field trip to MCM with arts enrichment programming provided by guest teaching artists Djam Vivie, Elmore Lawson, and Mandjou Mara. We hope to see the students return in the coming months with their whole family using their family admission passes!
Major support for MCM's Summer Arts Academy "inreach" programming is provided by
Wisconsin DPI Elementary and Secondary School Emergency Relief Fund  
The Evjue Foundation
U.S. Bank Foundation
Dane Arts
Additional support is provided by Dane County Arts with additional funds from the Endres Mfg. Company Foundation; The Evjue Foundation, Inc., charitable arm of The Capital Times; the W. Jerome Frautschi Foundation; and the Pleasant T. Rowland Foundation.