Special Events
Something is happening every day at Madison Children's Museum!
We also have special events throughout the year. We look forward to seeing you here!
---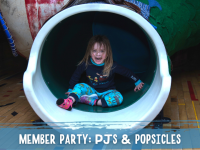 Friday, May 27 @ 5:00 pm - 8:00 pm
MCM's most popular member party returns. Wear your pajamas, bring a stuffie, and party in the museum after hours.
Featured Activities
Popsicle or an ice cream cup from Mama Megs ice cream truck (until 7:30 pm)
Giant bubbles in the Wonderground
Scavenger hunt through the museum
Cupcake-liner flower craft project in the Art Studio
After-hours play in the whole museum!
Tickets
General Members – $10 per family, with member discount
Family Access Members – $5 per family, with member discount
(Per-family registration includes all family members listed by name in your Madison Children's Museum membership. Check your digital membership card for a list of members. You may need to scroll on the digital card to see all listed members. For questions about your membership, contact our membership manager.)
Please note that masks are required in all indoor spaces (photos are from previous years' pre-covid PJ parties.)
---
This event is open to current museum members only.
Due to the popularity of this event, and to ensure that as many of our members are able to attend as possible, we will not be opening ticket sales to non-member guests. 
If you register and discover you cannot attend, please email us as soon as possible so we can admit others from the wait list.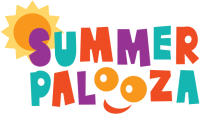 Saturday, June 11 @ 9:30 am - 3:00 pm
Mark your calendars and help us celebrate the start of summer in Madison. SummerPalooza includes free museum admission along with exciting activities and live entertainment just off the Capitol Square, from the curbs of Rotary Centennial Plaza to the creative spaces within MCM. Events run from 9:30 a.m.-3 p.m. with the parade around Capitol Square beginning at 12:30 pm.
Performers (Rotary Stage 9:30-12:30 and Parade 12:30-1 pm)
Activity Stations
Additional activities TBA
SummerPalooza is supported by Dane County Arts with additional funds from the Endres Mfg. Company Foundation, the Evjue Foundation, Inc., charitable arm of The Capital Times, The W. Jerome Frautschi Foundation, and the Pleasant T. Rowland Foundation.