American Girl Benefit Sale
The 2023 American Girl Benefit Sale, held in June, was the LAST benefit sale. There are no plans to hold another benefit sale in the future. No further sales will be made, either in person or online.
For over 35 years, American Girl has donated their overstock and returned inventory to Madison Children's Museum to be resold and raise money for MCM and dozens of children's charities in Dane County through American Girl's Fund for Children.
We thank all of the volunteers, staff, and shoppers who have given so much time, attention, and love to this sale and this cause over the years.
The Future of the American Girl Benefit Sale
Thank you for your interest in and support for the American Girl Benefit Sale.
The upcoming benefit sale, held on June 24 & 25, 2023, will be the last American Girl Benefit Sale run by Madison Children's Museum.
For the past 36 years, hundreds of volunteers and staff from Madison Children's Museum have worked countless hours to host the sale, and tens of thousands of shoppers have attended from throughout the country. Now, however, we must attend first and foremost to the work of being a children's museum. We have an ambitious year of work ahead of us; the considerable resources required to run the sale would conflict with that work. This is the right decision for MCM to best serve the children and families who depend on us.
In close consultation with American Girl, we've decided to go out on a high note, have a great last sale, and go forward with other projects.
American Girl is exploring new philanthropic avenues for this product and will be sharing the details of their future plans in early 2024—and we thank them for their support, enthusiasm, and incredible generosity.
Because this is the last sale, we'll set prices and limits so nothing goes unsold. Everything will be priced to move, so expect to see deeper deals on Saturday than in previous years. On Sunday, we'll increase limits to sell as much as possible to clear the floor. The selection late Saturday and on Sunday may be VERY limited, so make your plans and set your expectations accordingly.
We are so thankful for all of the support, labor, and love that many people, including our friends at American Girl, have put into this sale over the past three decades. Together, we have raised millions of dollars and brought endless joy to countless children. We hope that during your visit to our final benefit sale, you'll stop by downtown Madison and see the museum that dolls built.
American Girl Benefit Sale 2023 information
This information is about the 2023 benefit sale, and is for archive purposes only. No future sales are planned.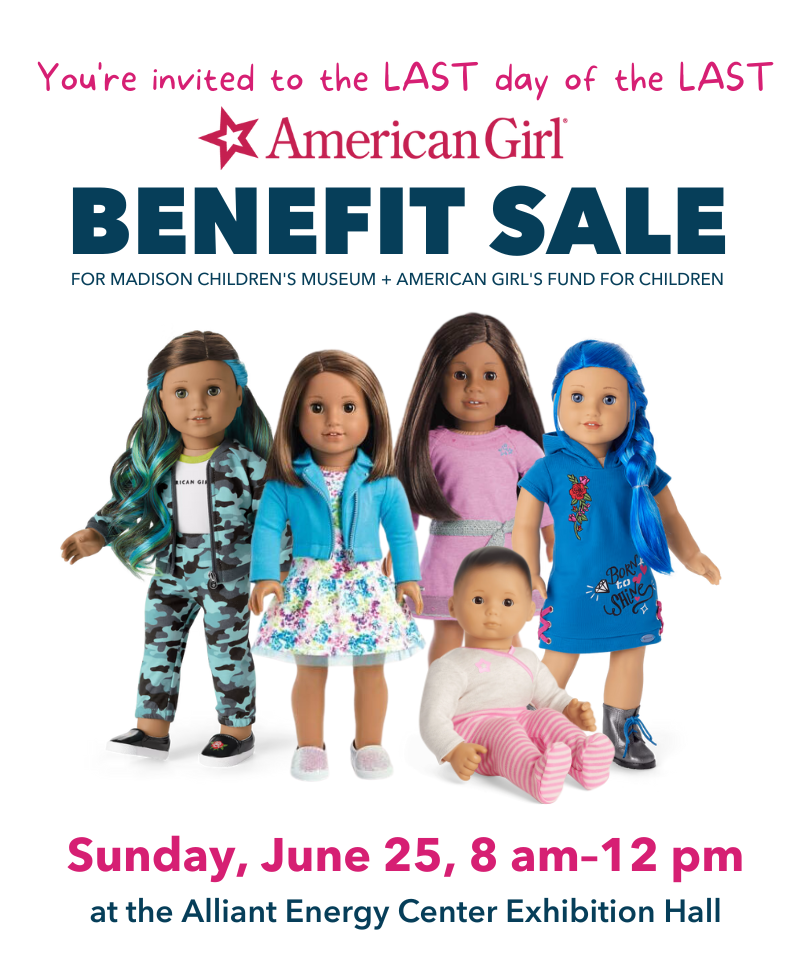 Shopper Information
Shopping & Purchasing Inside the Shopping Area
Once you are admitted into the Shopping Area there is no limit on how long you can shop; however, we ask that you do so efficiently so as to allow waiting shoppers to enter as soon as possible. Please be respectful of other shoppers. Owing to the limited space, you will need to keep moving while you are shopping. Please do not stand in one area to tally purchases or wait for others.
You may only enter the warehouse once per ticket, so please make sure you have picked up all the items you wish to purchase.
Please note that there are no restrooms in the sale area and you will not be able to leave and return once you have your wristband. Plan on visiting the restroom before you line up to enter the shopping area.
Be kind to the volunteers
All of the staff helping you with purchases are volunteers. Some have worked year-round to help prepare the product for you, while others are just volunteering for the day. Volunteers make everything the sale does possible, so please be kind and respectful to them. Anyone bullying our volunteers may have their tickets voided and be asked to leave. Let's make the sale a positive experience for everyone.
About Our Inventory
All product is sold "as-is." As much of our product includes returns to American Girl, there may be minor blemishes or some accessories may be missing. Inspect all items carefully before you purchase them, as we will not be able to issue refunds after the sale. Do not open sealed boxes or bags.
All girl-sized clothing is in sealed bags; do not open the bags or try on clothing. (Girl clothing sizes tend to run small.)
This year we have a very large quantity of many different kinds of doll clothing and smaller accessories—too many to display everything at one time. Accessories will be set out on tables and volunteers will replenish the tables as they empty. You can only shop from the accessories currently set out for purchase; you cannot look through the accessory boxes or ask a volunteer to do so for you. There is a Limited Treasures section for items we only have one or two of, including some unusual or older items, so be sure to check that section for particularly unusual finds.
Voucher Items
Voucher items are in extremely large boxes, such as doll houses or large furniture sets. Within the Shopping Area you can look at a picture of the voucher item and get a paper voucher to purchase it. After purchase, you'll pull your vehicle around to a designated pickup point behind the Exhibition Hall to claim your item. Note that the voucher items come in BIG boxes. You will want to measure your cargo space ahead of time. You must be able to load your voucher item into your vehicle yourself. Refunds will not be given for voucher items that you cannot transport home.
Tallying & Checkout
When you are ready to check out, join the exit line. When you get to the head of the line, a volunteer will escort you to a tally station. There, another volunteer will check your wristbands to determine how many items you may purchase, make a list of all of your goods and their prices, and give you an invoice. You will then take the invoice and items to a cashier who will accept your payment and give you a receipt. Please look over your tally and receipt carefully to ensure that you have all the items and that all totals are correct.
Payment
For payment, we accept ONLY cash or credit/debit/gift cards issued by Visa, MasterCard, Discover, or American Express. We DO NOT accept checks, traveler's checks, PayPal, Apple Pay, or credit cards saved on phones. As we are not run by American Girl, we cannot accept American Girl gift cards, promotional dollars, or coupons. Vendors in the Vendor Market may accept other forms of payment; inquire with them directly.
Taking Your Purchases Home
After paying you and all your companions will exit the sale area. Your wristbands will be removed and voided before you exit.
Once your purchase is complete you will need to carry your items to your car yourself. This year we are not able to provide carts or volunteers to watch purchases. There are two levels of pickup lanes next to the exposition hall, and you can leave a member of your party to watch your purchases while you pull up your vehicle. Please be as efficient as possible in bringing your car around and packing up. Or you can carry your purchases to your car—this year parking is much closer than at previous sales.
If you have purchased voucher items, directions to the pickup area will be printed on the voucher itself. You will need to get out of your vehicle and load your own items yourself.
This year we will not have an on-site shipping partner; however, there are several UPS stores and USPS offices within a short drive of Alliant Energy Center if you wish to ship your purchases home.
Inventory, Pricing & Payment
All of our product is donated by American Girl/Mattel and comes from their overstock or returned merchandise. Quantities vary widely.

All products are sold AS IS, with no returns, refunds, or exchanges. All dolls are inspected by our volunteers and care is taken to ensure the dolls are in very good condition.
Dolls may come with or without some small accessories or books.
Packaging may be imperfect. We focus on the quality of the product, not the box. Dolls may or may not be secured in their boxes.
Truly Me doll outfits may vary.

Prices are on average 30% less than store purchases. Some items may be reduced further depending on inventory.

Check our blog for prices. Sunday prices are posted by 10 pm on Saturday night.
Madison Children's Museum reserves the right to set prices based on availability from year to year.

Just like at a garage sale, we do not hold back any merchandise. We start out with the widest variety of products and items sell out as the day goes on.

With the inventory donated to us this year, we anticipate that we will likely still have some dolls by the end of the day on Saturday but selection may be limited.
We've been given particularly massive quantities of accessories this year, including doll clothes, furniture, and smaller accessory sets. There will be plenty of accessories available all Saturday and into Sunday.

We do not issue a complete list of all items and cannot confirm the presence of individual items ahead of the sale. A few days before the sale we will issue a list of item categories and prices to ticket holders.
For payments, we accept cash or credit/debit/gift card issued by Visa, Master Card, Discover, or American Express cards.

We DO NOT accept checks, traveler's checks, PayPal, Apple Pay, or credit cards saved on phones.
Vendors in the Vendor Market may accept other forms of payment; inquire with them directly.
Rules & Regulations
Our goal is to ensure a safe, pleasant experience for all American Girl Benefit Sale participants, volunteers, and staff.
All attendees at the American Girl Benefit Sale must abide by the rules & regulations listed below.
This is an in-person-only sale. Madison Children's Museum will not ship, hold, or accept telephone or online orders. All orders must be placed in person at the American Girl Benefit Sale, during posted sale hours.
There are NO returns or refunds. Items are refurbished returns and overstock and sold "as is." Please check all your purchases in the warehouse so you don't get any unpleasant surprises when you get home. Be sure to count all your purchases and double-check your receipt before you depart.
All persons entering the sale area must have either a Shopper ticket or a Companion ticket, including children and babies. The only exception to this rule is infants who are carried in a wrap, soft carrier, or otherwise worn on the body of an adult.
Only Shopper ticket holders may purchase items. Companion tickets do not increase the per-shopper limit.
Companion ticket holders may enter the sale only when accompanying their Shopper, and may not make purchases. Companion ticket holders must stay with their Shopper ticket holders at all times.
You may enter the sale area once per ticket. Please double-check your shopping list before you check out; you will not be able to reenter the sale without another ticket.
No wheeled devices are allowed in the shopping area. This includes strollers, wagons, and wheeled luggage. Wheelchairs, walkers, and other devices to help people with mobility issues are permitted in the shopping area. Mobility devices must be used to transport people, not items; you must be able to carry all your purchases. Please realize the space in the shopping area may become extremely crowded. If you are using mobility device, consider ordering a Companion ticket and bringing someone to help you through the crowd.
Sale entry times may be delayed at times due to overcrowding. We try to run on time; however, we will not admit more people into the shopping area than can be safely accommodated. We will be posting real-time updates regarding the line and entry times.
No animals are permitted on the sale grounds, with the exception of trained service animals.
Previously purchased dolls are not permitted in the sale area. As many dolls are sold in open boxes, we do not want to mistake your current doll friend for merchandise. A "doll daycare" area is provided for your doll to wait until you have finished shopping. Use of the doll daycare is at your own risk.
We reserve the right to cancel tickets that have been purchased in violation of our rules. This includes tickets that have been purchased in excess of our per-household ticket limits or tickets that have been resold for more than face value. Canceled tickets may not be used for sale entry.
Smoking is not allowed in the warehouse or on the grounds. Vaping and the use of smokeless tobacco products are also prohibited.
Please DO NOT contact American Girl or Mattel regarding this sale. The sale is run solely by Madison Children's Museum staff and volunteers. We cannot accept coupons or gift cards issued by American Girl or Mattel.
The American Girl Benefit Sale is a private event. Any person who fails to obey the rules listed above or who engages in disruptive or abusive behavior may be asked to leave the sale grounds at any time