Birthday Parties at MCM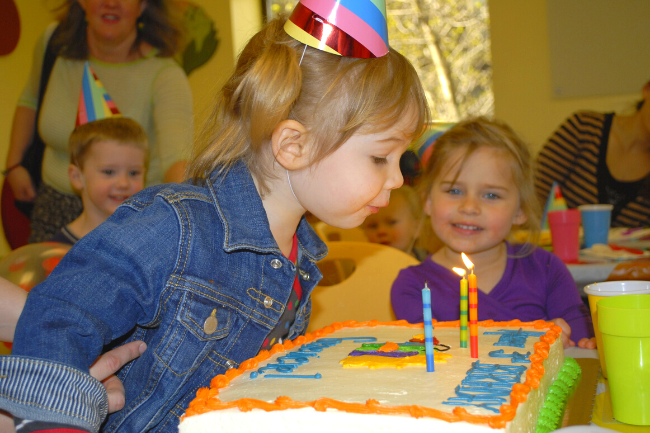 Celebrate your imaginative, creative child in a place as unique as they are! Schedule your next birthday party at Madison Children's Museum and don't worry about planning games, DIYs, or crafts; the museum has four floors of hands-on exhibits and playspace readymade.
Pick your party
We offer two different party packages: both help make your planning and party prep as easy as possible. MCM members, remember you get a 10% discount on purchases!
Basic Party Package | $375
Exclusive use of MCM's Celebrations room for a two-hour party, with an additional 15 minutes before and 15 minutes after the party for setup and cleanup.
Museum admission for up to 40 people, including hosting family and birthday child. Additional guests can be added for $7 per person on the day of your party. Admission is good for the whole day, so guests can arrive before the party and stay afterward.
Tables covered with paper (with crayons provided for table art) and seating for up to 25 people. Additional picnic-style seating is available on wood risers.
Napkins and reusable plates, cutlery, and cups for up to 40 people. (Reusable is more sustainable and makes cleanup easy for you; our staff will collect and wash them.)
Personalized "Happy Birthday" message on the museum's Welcome Wall.
An MCM staff party attendant to help with setup and cleanup, and be your liaison with the museum on the party day.
Deluxe Party Package | $450
Everything from the Basic party package.
MCM birthday party coloring poster: Kids love our coloring murals in the Art Studio. This party includes one poster-sized coloring mural for your guests to fill in, sign, and give to your birthday child as a souvenir. Crayons for coloring are provided.
MCM Gift Bags: Each child will take home a gift bag filled with an MCM color-changing reusable cup, an MCM birthday party coloring book, crayons, an MCM temporary tattoo, and a guest pass (value $12) for one child admission to MCM.
---
Pick Your Date
Birthday party reservations are available on most Saturdays and Sundays at 9:30 am and 1:30 pm. Some Sunday afternoon times are not available due to programming taking place in the party room. Availability is limited, so book soon. Dates and times not listed on the calendar are not available.
Note: Due to new exhibit construction, we will pause hosting birthday parties starting in January 2024 and through the spring of 2024. We will announce the resumption of birthday parties at MCM in our email newsletter.
---
How to Party at MCM
Arrival
Your guests will check in at the front desk and receive a wristband. They're free to arrive early and play in the museum before your reserved time in the Celebrations room.
Before you arrive, we'll clean Celebrations and set up the tables, table coverings, crayons, and chairs for 25 people. Picnic-style seating can accommodate another 15.
Food, Beverages, & Cake
You're welcome to bring food and beverages for your party. MCM no longer has an in-house pizza cafe, so please make plans in advance for refreshments.
Bring food from home or order and pick it up on the way. We can store a limited amount in a refrigerator on the day of the party.
Playing in the Museum & Party Activities
The best part about a party at the museum is playing in the museum! If you want to organize games or special activities, you're welcome to do so in the Celebrations room during your party time.
You and your guests can arrive as soon as the museum opens and stay to play until we close. Only your use of the Celebrations room is time-restricted. Please make sure that kids are supervised by you or an adult from your group at all times.
Deluxe party package only: Includes one birthday coloring poster—a mini-version of our popular Art Studio coloring murals—which makes for a great activity as guests arrive and a special souvenir for the birthday kid.
Decorations, Tableware, & Gift Bags
You are welcome to bring in streamers, balloons, and other decorations for use inside the Celebrations room. (These can be attached to walls only, with painters tape.)
We provide tableware but you're welcome to bring your own additions, such as themed napkins or tablecloths. Our tableware is made of kid-safe reusable material and is washed and sanitized after events. Our paper table coverings are great for drawing and we'll provide the crayons, just like in our Art Studio.
Deluxe party package only: We provide a gift bag with MCM party favors for each child. You're welcome to add additional items, like edible treats, to the gift bags.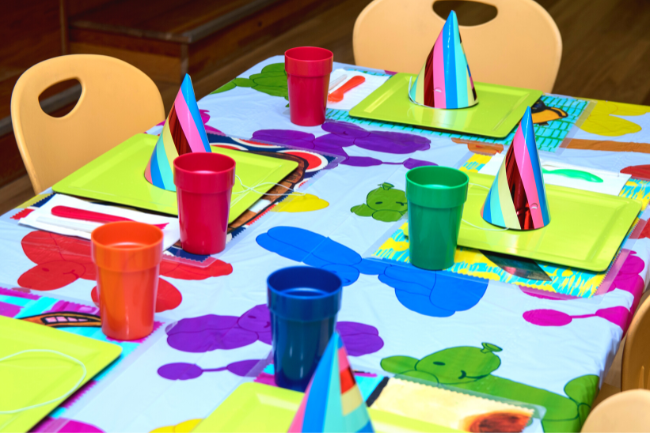 Rescheduling & Refunds
Payment is due in full when scheduling your party. Party payments are nonrefundable. However, if you contact us by noon on the Thursday before your party, you can reschedule to a later available party date at no extra cost, as your calendar and reservations availability allow.
---
Tips for a great party
Based on many years of experience hosting amazing birthday parties, here are a few helpful hints for throwing a really successful party:
Ask your guests how many people will be coming with them. Families interpret invitations in different ways so you don't want to assume one adult and one child, and then end up too crowded when a child shows up with two caregivers and several siblings. We can admit extra people for your party at a reduced rate of $7 per person, but crowding in the Celebrations room can still be an issue.
Don't overplan it! Playing in the museum provides most of the fun at a birthday party. You don't need oodles of games when there are four floors of things to do. Just be sure to invite enough adults so that you can chaperone all the kids. The buddy system can be useful to keep them in groups that are easier to watch.
Decorations are optional! The whole museum is festive enough that you don't need to bring a lot of extra decor to make a party seem special. If you do want to decorate, make your 15-minute prep window stress-free by prepping as much as possible at home. Blow up balloons in advance and transport them in trash bags, for example.
We've seen that relying on food delivery can cause all kinds of problems. We can't accept deliveries for you, so an adult from your group would need to wait by the door to receive the food. We strongly recommend you have someone from your group pick up all the food on the way to the party. (Tip: Ian's Pizza on State Street has a back exit onto where N. Carroll Street dead ends and is just a few blocks away.)
Don't forget to bring the cake!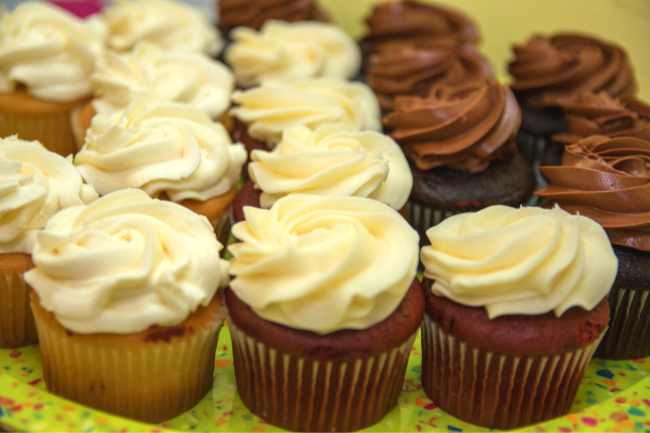 ---
Birthday Party Rules & Guidelines
To ensure that you have an easy and enjoyable party experience, please review the information below carefully:
Admission
Your party comes with museum admission for 40 people.
Who counts toward your total 40 guests: All guests—both kids and adults—admitted to the museum (including museum members). This includes you, the birthday child, and any family members attending the party. Admission in excess of 40 people will add a charge of $7 per extra person at the conclusion of the party.
Who does not count toward your total 40 guests: Babies under the age of 12 months.
Food & Beverage
All food must be eaten in the Celebrations room.
All food must be brought on the day of the party and leftovers removed on the day of the party.
MCM staff cannot accept deliveries on your behalf. If you must have a delivery for your party, an adult from your group needs to be waiting at the front door to receive the delivery.
No glass containers.
No alcohol.
Setup & Cleanup
The museum cannot receive or store any food, decorations, or supplies before the day of your party.
You and any helpers you have may enter the Celebrations room up to 15 minutes before your party start time for additional setup and decoration.
Nothing can be hung from the ceiling of the Celebrations room, but you can attach decorations to the walls with painter's tape.
After your party time ends, all party guests must exit the Celebrations room. You and any helpers you have may remain for up to an additional 15 minutes after the party for cleanup.
You are responsible for removing all your items and decorations from the Celebrations room and helping clean up any major messes.
You have the use of a large storage cart to transport supplies and presents, hold coats, etc. The storage cart may be held for safekeeping at the museum's front desk until you are ready to depart.
Activities & Playing in the Museum
All children must be supervised by an adult from your party at all times.
All attendees must follow the museum's 5 Rules for Safe Play: Stay & Play Together, Use Walking Feet, Share the Space, Help Clean Up, Eat Only in Designated Area.
The Celebrations room is your reserved space during your party. The rest of the museum is open to other visitors. You are welcome to play in the museum during your birthday party time.
Piñatas are not permitted in the museum.
Outside of the Celebrations room, party attendees must follow MCM masking and Covid safety measures in place at the time of the party. Safety requirements are subject to change based on current community health conditions. Please visit our website's Health & Safety page for the most current information.
MCM Party Attendant
A member of MCM's staff will be assigned as your party attendant.
Your party attendant will serve as your liaison to the museum on the day of your party. They can help you with setup and cleanup, keep track of time, and assist with logistics like bringing extra chairs or supplies to clean up spills.
Your party attendant cannot lead activities or games, supervise children, or provide childcare.
Payments, (No) Refunds, & Rescheduling
All party reservations must be paid in full at the time of booking.
Party payments are nonrefundable.*
If your party exceeds the allocated 40 people, you will need to pay for any additional attendees after the party. Any extra attendees will be charged at the discounted admission rate of $7 per person.
If your party needs to be postponed, you can reschedule to a later available party date at no extra cost if you contact the museum by noon on the Thursday before your party. Please note that the rescheduling notice is normally two weeks, but has been reduced due to uncertainties caused by the pandemic.
Parties can only be rescheduled for currently available party slots. Please note that due to the very limited inventory of party slots, we cannot guarantee that there will be a convenient slot to rebook.
If the museum is closed due to weather or other shutdowns, you may choose to reschedule on a different date, or request a full refund. *Museum closures are the only exception to the non-refundable rule.