We're Madison's Favorite Birthday Party Place
Not booking birthday parties until 2022.
Unfortunately, we will not be able to host or schedule any birthday parties during fall 2021. Our birthday party room has been repurposed to provide a safe, enclosed place for families to remove masks and eat within the museum. Once COVID-19 safety measures are no longer required we can transition back to our normal cafe space and resume booking birthday parties. We anticipate that this will not be until sometime in 2022—we hope this winter.
---
Madison Children's Museum Birthday Party Song "Pick a Date!"
(Parody of "Shake It Off" by Taylor Swift)
---
What's the area's favorite place for a kid's birthday party? Madison residents agree over and over—it's Madison Children's Museum! We make celebrating a piece of cake by handling all the details so you can have fun too. Book your best party ever!
---
Days and times parties are available
Birthday Parties include 90 minutes in our Celebrations room for the following time slots
| | | |
| --- | --- | --- |
| | Saturdays & Sundays | |
| | 10:00 am to 11:30 am | |
| | 12:30pm – 2:00pm | |
| | 3:00pm – 4:30pm | |
---
All birthday party packages include
Use of our Celebrations Room for one and a half hours (90 minutes)
Custom birthday message on Welcome Wall screen at admissions
Custom electronic invitations
Storage before and after party
A museum Party Attendant
10% discount for museum members
Museum Admission for unlimited adult chaperones
ALL DAY Museum admission for up to 25 guest children (26 including birthday child!) More than 26 children? See our Add-ons!

---
Regular Hours Parties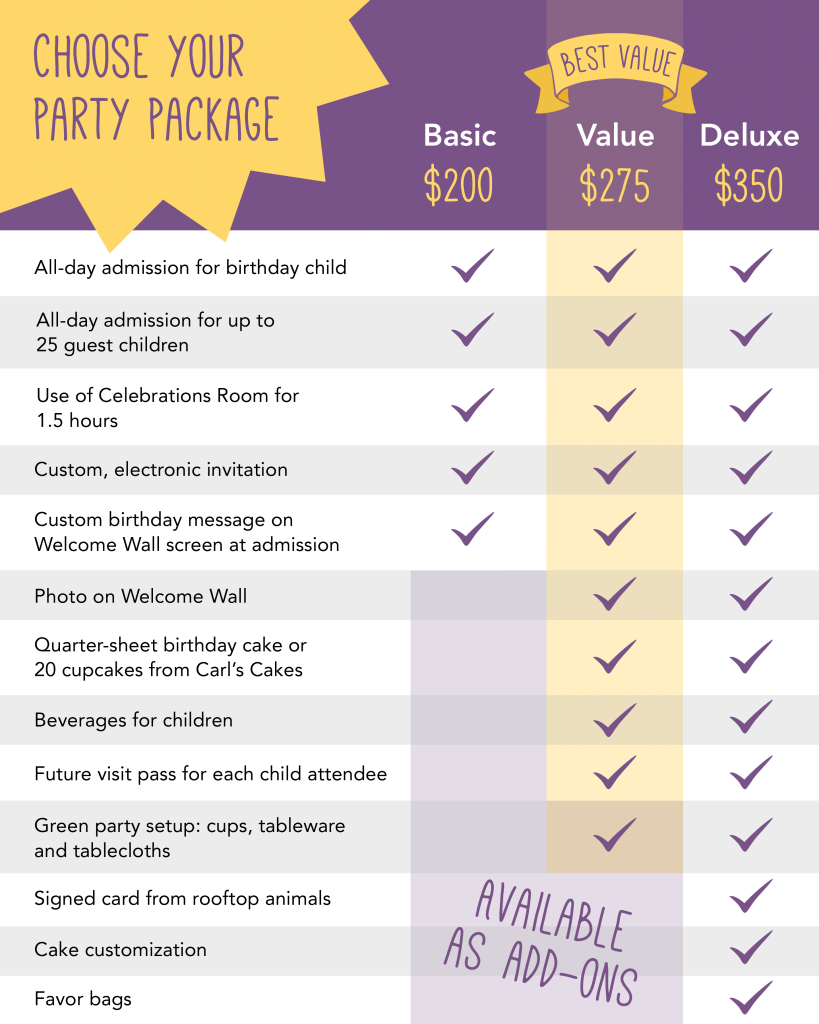 ---
Food and Cake
Cake, meals, and snacks from our exclusive birthday party catering partners, The Roman Candle and Carl's Cakes, can be purchased for an extra cost. Other outside food is not allowed with the exception of cake and non-alcoholic beverages.
---
Add-ons
Additional children can be added for $5 per child
Carl's Cakes Cake or Cupcake Upgrade, $40
Custom Cake Decoration, $25
Smash Cake, $5
Favor Bags, $6/bag
Child's Picture on Welcome Wall with Custom Birthday Message, $10
Birthday Card for Child (with free MCM pass), $5
---
Enhance your party!
Check out our recommended party vendors to enhance your party even further!
From party planning to magic, our partners make your child's birthday that much more special.
---
After-Hour Parties
Get the second floor of the museum all to yourself for two hours. This includes exclusive access to the Celebrations Room, Coops to Cathedrals, Possible-opolis™ and Art Studio. Party any night of the week from 5:30-8:00 p.m.
AWESOME After-Hours Party, an additional $300 to package of choice
Choice of Party Package
Admission for up to 25 guest children (26 including birthday child) and unlimited chaperones
Additional guests can be added for $15 per child
10% discount for members
To book an After-Hours Party, please contact our Facility Rental Coordinator by phone at 608.256.6445 x 540 or email at rent@madisonchildrensmuseum.org
Need another copy of the guest list form? Click HERE!
---
How to book your party
Due to the current health emergency and subsequent closure, Madison Children's Museum is not hosting nor accepting reservations for birthday parties at this time.
Please keep checking this page for updated status on our birthday party celebrations.
Still have questions?
Cancellation Policy:
Reservation Changes and Cancellations: Due to the high demand of our birthday party time slots, deposits are non-refundable. Parties that cancel with a minimum of two weeks' notice will be allowed to reschedule at no additional charge, and may apply their deposit to the new reservation.  All parties cancelled less than 48 hours prior maybe be subject to forfeiture of deposit.
If the Museum is closed due to weather or other shutdowns, you may choose to reschedule on a different date, or request a full refund.
If the party chooses not to travel due to weather advisories, at their origin, or along their travel route, that do not result in the closure of the museum, they may choose to reschedule their reservation at no additional charge; no refunds will be issued.
If the party choose to cancel a minimum of 48 hours prior due to any other concerns while the museum is still open to the public on the day of the day of the party, they may choose to reschedule their reservation at no charge, but no refunds will be issued.