Trash Lab is a mobile exhibit created in partnership with the Dane County Department of Waste & Renewables, designed to educate and motivate us to create less trash and rethink our relationship with waste.
Awards
2022 • Communications Award – 1st Place, International Solid Waste Association
2021 • Exhibits Award – Sustainability Excellence Award, American Alliance of Museums
2021 • Outstanding Achievement in Education Award, Associated Recyclers of Wisconsin
About Trash Lab
Explore how and why we've created so much trash. RETHINK what we can do to create less. Dive into the science of trash to understand how landfills PROTECT our environment by managing the waste our society creates. And finally, help us REDESIGN a world where landfills are not thought of as disposable sites, but as important places where trash is transformed into valuable resources.
Why should we care about trash?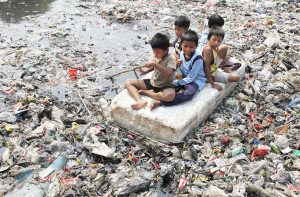 This exhibit aligns strongly with the museum's commitment to sustainability, which is evident in every aspect of the museum's operations and exhibits. MCM has remained a sustainability leader nationwide. See how the museum was recognized on the national climate action site We Are Still In.
Trash Lab was created by the Dane County Department of Waste & Renewables in collaboration with Madison Children's Museum.