Monthly Giving
Sustainers enjoy the convenience of automatic monthly donations to MCM.
Monthly gifts sustain the museum's high-quality exhibits and programming. This ongoing support helps ensure Madison Children's Museum continues to thrive and grow today, tomorrow, and for years to come.
To become a monthly sustainer, please go to our Giving Page and select the amount you would like to give monthly. Then select the "monthly" payment option as below…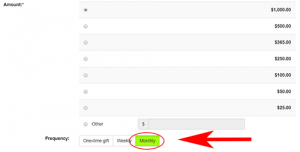 …and continue with the rest of the gift information.
Thank you for being a monthly sustainer!