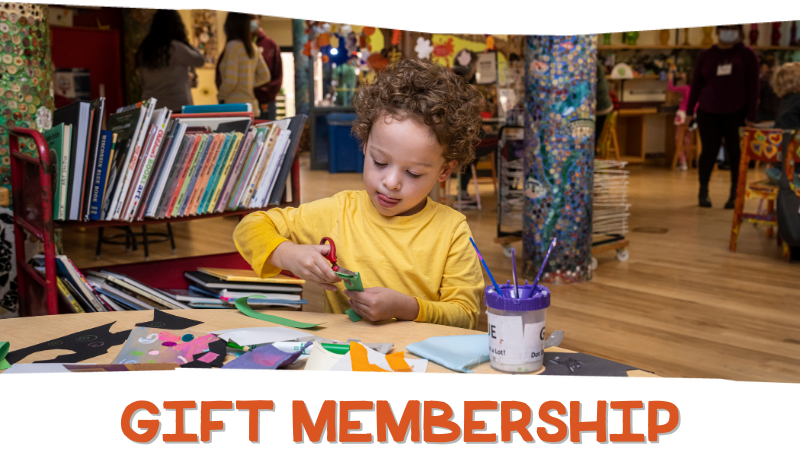 Membership to Madison Children's Museum is a gift that the whole family can enjoy. Each child finds their own path here, a part of the museum that they can call their own. They discover interests that can last a lifetime and fuel a career. For a parent or caregiver, watching their child discover a passion—learning and growing—and sharing in the experience is a gift in itself.

What are the benefits of membership?
Every membership level gets…
Unlimited free admission
Every person (child or adult) named on the membership can visit for free for a whole year
Members can reserve free tickets in advance for guaranteed entry (recommended for peace of mind during busier holiday times or special events) OR drop in and visit for free any time the museum isn't at capacity (which is the vast majority of open hours)
Exclusive access & special events
Member Mornings: On the first Saturday of each month, the museum opens an hour early, just for members (Pro-tip, Member Morning matches up well with a trip to the popular Dane County Farmers' Market on the Capitol Square during the warmer months)
Invitations to member-only parties and special celebrations
Sneak peeks at new exhibits
Discounts inside the museum & in the community
10% discount on all museum purchases, including snacks, books, toys and souvenirs from our gift shop; purchases of additional tickets for guests and friends; and other museum purchases
Discounts at local partners, including Overture Center and CTM (Children's Theater of Madison)
Family and Family Plus level members get…
Reciprocal admission benefits
Free general admission to hundreds of science & technology museums
50% off admission at children's museums around the country
Guest passes to bring extra friends/family for free
Family: 6 passes
Family Plus: 10 passes
---
How much does a membership cost?
Level & Price
Includes
Bonus Benefits
Wonder Maker
$350+
6+ Members
Free admission to select science centers, 50% off admission to select children's museums, 10+ guest passes
Tax-Deductible*
Family Plus
$200
6 Members
Free admission to select science centers, 50% off admission to select children's museums, 10 guest passes
Family
$165
4 Members
Free admission to select science centers, 50% off admission to select children's museums, 6 guest passes
Dual
$120
2 Members
2 guest passes
Family Access
$15+
Need-Based
All Family
Members
Terms Apply
Standard Benefits Only
---
How do I purchase?
Other options
Over the phone — Call our membership manager at (608) 354-0550
In person — Download the registration form and bring it to the front desk on your next visit or fill out a registration form at the front desk
By mail — Download the registration form and mail it to 100 N. Hamilton St., Madison, WI 53703
---
What will my gift recipient receive?
The gift recipient will receive an emailed welcome message & digital membership card
Every gift recipient receives an emailed welcome message which includes summary of the many ways the membership can be used and a digital membership card. The card can be printed or displayed on their phone to visit MCM immediately and (for Family membership level and greater) for admission discounts at participating reciprocal museums.
Please note that our membership manager individually sends the welcome email; it is not automatic. During busy seasons and the holidays it may take some time message to be sent and it cannot not be sent on dates when the museum is closed, such as holidays. Your gift recipients can start visiting the museum immediately by giving their name at the front desk, they don't need to wait for the welcome email.
---
Policies
Renewing an active membership will add 12 months to the current expiration date, so there will be no lost time for renewing early
Memberships are active immediately upon payment and giftees can attend the museum using an ID until their digital membership cards arrive