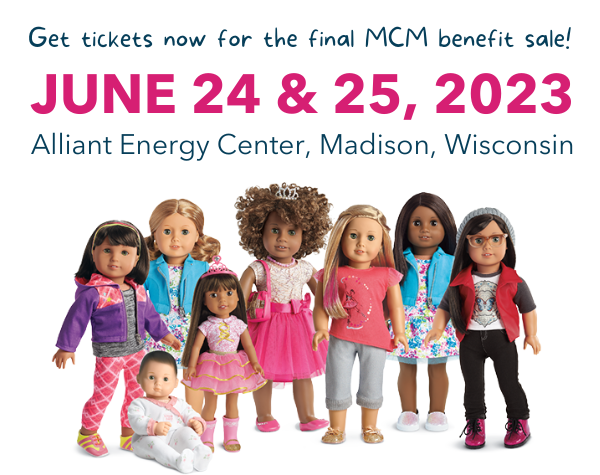 The American Girl Benefit Sale, run by Madison Children's Museum, offers great deals on authentic American Girl dolls, accessories, and books — all for a good cause!
For over 35 years, American Girl has donated their overstock and returned inventory to Madison Children's Museum to be resold and raise money for MCM and dozens of children's charities in Dane County through American Girl's Fund for Children.
This will be the final year that MCM will run a benefit sale, so… everything must go!
Deep discounts on dolls and an especially large inventory of accessories, including furniture, doll clothing, and accessory sets.
Prices are on average 30% less than store purchases. Some items may be reduced further depending on inventory.
Stock up on surprises for birthdays, holidays, donations, and collections — all benefiting local kids!
The 2023 sale is in-person in Madison, Wisconsin ONLY. No online ordering or shipping will be provided.
The Future of the American Girl Benefit Sale
Thank you for your interest in and support for the American Girl Benefit Sale.
The upcoming benefit sale, held on June 24 & 25, 2023, will be the last American Girl Benefit Sale run by Madison Children's Museum.
For the past 36 years, hundreds of volunteers and staff from Madison Children's Museum have worked countless hours to host the sale, and tens of thousands of shoppers have attended from throughout the country. Now, however, we must attend first and foremost to the work of being a children's museum. We have an ambitious year of work ahead of us; the considerable resources required to run the sale would conflict with that work. This is the right decision for MCM to best serve the children and families who depend on us.
In close consultation with American Girl, we've decided to go out on a high note, have a great last sale, and go forward with other projects.
American Girl is exploring new philanthropic avenues for this product and will be sharing the details of their future plans in early 2024—and we thank them for their support, enthusiasm, and incredible generosity.
Because this is the last sale, we'll set prices and limits so nothing goes unsold. Everything will be priced to move, so expect to see deeper deals on Saturday than in previous years. On Sunday, we'll increase limits to sell as much as possible to clear the floor. The selection late Saturday and on Sunday may be VERY limited, so make your plans and set your expectations accordingly.
We are so thankful for all of the support, labor, and love that many people, including our friends at American Girl, have put into this sale over the past three decades. Together, we have raised millions of dollars and brought endless joy to countless children. We hope that during your visit to our final benefit sale, you'll stop by downtown Madison and see the museum that dolls built.
American Girl Benefit Sale 2023
Saturday & Sunday, June 24 & 25
In-Person Only at the Alliant Energy Center, Madison, Wisconsin
AGBS 2023 Key Dates & Schedule
Wednesday, May 24 by 5 pm Central Time: Ticket transfer window opens
Friday, June 16 at 10 am Central Time: Ticket transfer window closes, all tickets are frozen
Tuesday, June 20 by 5 pm Central Time: Official barcoded e-tickets emailed to all ticket holders
Wednesday, June 21 by 5 pm Central Time: List of prices by item category announced
Saturday, June 24: AGBS 2023 Day 1

8 am: Early Entry shopping begins by ticket time
9 am: General shopping begins by ticket time

Sunday, June 25: AGBS 2023 Day 2

8 am: Early Entry shopping begins by ticket time
9 am: General shopping begins by ticket time
Note: All AGBS times are in the CENTRAL TIME ZONE.
Ticket & Ticket Formats
Saturday Afternoon shopper tickets now available to the public!
Tickets sold during this phase are simple: You pick from available entry times when you buy your ticket.
Available Tickets
Saturday Early Entry shopper tickets

8:45 am entry
$100 per ticket
Very limited quantities available!

Saturday Afternoon shopper tickets

1:45 pm and later entry times
$10 per ticket
There is no limit on the number of tickets you can buy.
AGBS tickets are e-tickets and will be sent by email on June 20. 
Sunday tickets and Companion tickets are no longer available.
About AGBS 2023 Public Tickets
All AGBS tickets will be electronic e-tickets

Emails with e-tickets will be sent by 5 pm on Tuesday, June 20.
No physical/paper tickets will be mailed.
At your entry time, you will show your e-ticket barcode on your phone or you may print your ticket at home and show that printed barcode. We will scan the barcodes.

All tickets are non-refundable; transfers may be made via the MyAGBS website.

TICKETS ARE NON-REFUNDABLE. You cannot get a refund on your ticket if you cannot attend, nor due to limited/sold-out inventory, nor for any other reason.
If you buy a ticket and discover you cannot attend, you may donate your ticket back to AGBS or you may transfer your ticket to another person via our online MyAGBS ticket exchange system.
Ticket transfers/donations begin Wednesday, May 24 by 5 pm Central Time.
All ticket transfers must be completed by June 16. Tickets will thereafter be frozen in MyAGBS to their owners.
You may only sell unwanted tickets for the same price that you originally paid for them, as per our longstanding policy. No scalping. All purchase arrangements between shoppers are made at your own risk.
For buyers during the ticket lottery presale (May 10-15)
On May 17 you were sent an email with a link to your unique MyAGBS portal. Visit that portal to view your ticket time(s). Not seeing that email? Check your spam/promotions/junk folder. Still not seeing it? Contact us.
Presale tickets are either Shopper Tickets or Companion Tickets

Shopper Tickets may be used to buy up to the per-ticket item limit. You may use multiple valid Shopper tickets to buy additional items.
Companion Tickets cannot shop or buy during the sale. Companions MUST enter the sale with their designated Shopper and must stay with the shopper at all times while in the sale.
Inventory & Pricing
All of our product is donated by American Girl/Mattel and comes from their overstock or returned merchandise. Quantities vary widely.

All products are sold AS IS, with no returns, refunds, or exchanges. All dolls are inspected by our volunteers and care is taken to ensure the dolls are in very good condition.
Dolls may come with or without some small accessories or books.
Packaging may be imperfect. We focus on the quality of the product, not the box. Dolls may or may not be secured in their boxes.
Truly Me doll outfits may vary.

Prices are on average 30% less than store purchases. Some items may be reduced further depending on inventory.

Madison Children's Museum reserves the right to set prices based on availability from year to year.

Just like at a garage sale, we do not hold back any merchandise. We start out with the widest variety of products and items sell out as the day goes on.

With the inventory donated to us this year, we anticipate that we will likely still have some dolls by the end of the day on Saturday but selection may be limited.
We've been given particularly massive quantities of accessories this year, including doll clothes, furniture, and smaller accessory sets. There will be plenty of accessories available all Saturday and into Sunday.

We do not issue a complete list of all items and cannot confirm the presence of individual items ahead of the sale. A few days before the sale we will issue a list of item categories and prices to ticket holders.
Item Limits
To ensure that as many people as possible get to take home good finds, we set a per-ticket limit on the number of items in set categories that you can purchase with a single shopper ticket.
Upon entry, your valid tickets will be exchanged for wristbands. Wristbands will not be issued before the entry time on your ticket. At checkout, each Shopper wristband allows purchase of goods up to the limit. Companion wristbands DO NOT COUNT toward shopping limits. A person may present more than one shopper wristband at checkout.
Saturday Per-Ticket Item Limits
4 dolls (includes 18″ dolls, WellieWishers, Bitty Babies, and Doll + Accessory sets)
10 accessories (includes furniture, item sets, and clothing)
Sunday Per-Ticket Item Limits
Sunday prices will stay the same as Saturday, but limits will increase. The Sunday limits will be announced by 10 pm on Saturday night.
Yvonne wants to buy 6 dolls to cover birthdays and holidays for her three children. Yvonne buys 2 Saturday General Shopper tickets. When it's time for her to enter the sale she gets 2 shopper wristbands. At checkout, the volunteer checker notes that Yvonne has two valid shopper wristbands, and so may buy the 6 dolls she has selected.
Jacob has a 10 am Shopper Ticket and a 1 pm Shopper Ticket. Jacob shops once at 10 am, gets one wristband, buys up to his limit of 4 dolls, and puts them in his car. He waits until 1 pm and gets a second wristband to shop again to buy 4 more dolls. Jacob now has a total of 8 dolls.
Elizabeth wants to shop with her 5 grandchildren, each of whom wants 1 doll. Elizabeth buys 2 Saturday General Shopper tickets and 4 companion tickets. Elizabeth goes to the sale with her grandchildren, and each child selects a doll. At checkout, Elizabeth presents her 2 shopper wristbands and pays for all 5 dolls.
How limits work with Companion Tickets
Companion tickets were exclusively sold during the ticket lottery presale and may no longer be purchased.
Companions accompanying a Shopper can enjoy the experience in the warehouse, but they can't buy anything and have no effect on limits. Only Shoppers are allocated limits for buying.
Examples:
The Robinson family has 2 Shopper tickets and 3 Companion tickets. They can bring up to 5 people into the sale, and they can buy a total of 8 dolls and 20 accessories.
The Williams family has 3 Shopper tickets and 2 Companion tickets. They can bring up to 5 people into the sale, and they can buy a total of 12 dolls and 30 accessories.
The Smith family has 0 Shopper tickets and 4 Companion tickets. They can't enter the sale! Companions MUST accompany a Shopper.
Location & Hotels
The 2023 benefit sale will be held in Madison, Wisconsin, at the Alliant Energy Center in their Exhibition Hall. The Alliant Center is Madison's premier large-event location, offering ample parking, numerous adjacent hotels, and comfortable, climate-controlled space for our shoppers and volunteers.
The Alliant Energy Center Exhibition Hall is located at 1919 Alliant Energy Center Way, Madison, WI 53713. Paid parking is available on-site.
Several nearby hotels are holding blocks of discounted rooms available for AGBS attendees. Only a limited number of rooms are available and may sell out. Use the links below to book at the discounted rate.
Rules & Regulations
Our goal is to ensure a safe, pleasant experience for all American Girl Benefit Sale participants, volunteers, and staff.
All attendees at the American Girl Benefit Sale must abide by the rules & regulations listed below.
This is an in-person-only sale. Madison Children's Museum will not ship, hold, or accept telephone or online orders. All orders must be placed in person at the American Girl Benefit Sale, during posted sale hours.
There are NO returns or refunds. Items are refurbished returns and overstock and sold "as is." Please check all your purchases in the warehouse so you don't get any unpleasant surprises when you get home. Be sure to count all your purchases and double-check your receipt before you depart.
All persons entering the sale area must have either a Shopper ticket or a Companion ticket, including children and babies. The only exception to this rule is infants who are carried in a wrap, soft carrier, or otherwise worn on the body of an adult.
Only Shopper ticket holders may purchase items. Companion tickets do not increase the per-shopper limit.
Companion ticket holders may enter the sale only when accompanying their Shopper, and may not make purchases. Companion ticket holders must stay with their Shopper ticket holders at all times.
You may enter the sale area once per ticket. Please double-check your shopping list before you check out; you will not be able to reenter the sale without another ticket.
No wheeled devices are allowed in the shopping area. This includes strollers, wagons, and wheeled luggage. Wheelchairs, walkers, and other devices to help people with mobility issues are permitted in the shopping area. Mobility devices must be used to transport people, not items; you must be able to carry all your purchases. Please realize the space in the shopping area may become extremely crowded. If you are using mobility device, consider ordering a Companion ticket and bringing someone to help you through the crowd.
Sale entry times may be delayed at times due to overcrowding. We try to run on time; however, we will not admit more people into the shopping area than can be safely accommodated. We will be posting real-time updates regarding the line and entry times.
No animals are permitted on the sale grounds, with the exception of trained service animals.
Previously purchased dolls are not permitted in the sale area. As many dolls are sold in open boxes, we do not want to mistake your current doll friend for merchandise. A "doll daycare" area is provided for your doll to wait until you have finished shopping. Use of the doll daycare is at your own risk.
We reserve the right to cancel tickets that have been purchased in violation of our rules. This includes tickets that have been purchased in excess of our per-household ticket limits or tickets that have been resold for more than face value. Canceled tickets may not be used for sale entry.
Smoking is not allowed in the warehouse or on the grounds. Vaping and the use of smokeless tobacco products are also prohibited.
Please DO NOT contact American Girl or Mattel regarding this sale. The sale is run solely by Madison Children's Museum staff and volunteers. We cannot accept coupons or gift cards issued by American Girl or Mattel.
The American Girl Benefit Sale is a private event. Any person who fails to obey the rules listed above or who engages in disruptive or abusive behavior may be asked to leave the sale grounds at any time
Sign up to receive AGBS information/updates
Important information about receiving AGBS emails
Gmail users should be aware that our communications may be routed to your Promotions tab, so be sure you have the ability to check that frequently, or just enter "AGBS" in Gmail's search bar.
Do not unsubscribe! American Girl Benefit Sale emails are sent by Madison Children's Museum.

If you unsubscribe to emails from Madison Children's Museum, you are ALSO unsubscribing to all AGBS emails.
Our email service provider takes consumer privacy very seriously; if you unsubscribe yourself, we cannot manually add you back in. To re-subscribe, you will need to re-enter your information in our online subscription form, follow the prompts on subsequent screens, AND click on the link in a confirmation email before you will be added back to the list.
Still looking for more info?
Questions
If you have questions that aren't answered here, please contact us via email. Also, there is a wonderful community of veteran sale-goers and sale volunteers on our Facebook page.
All customer service questions must be submitted by email. We are not able to answer questions by phone. All email inquiries are time-stamped and will be answered in the order they were received.
They are generally generous with their time and willing to give advice. We highly recommend liking the page and joining that community.
Get the Latest News
Get information and updates on merchandise and more by subscribing to our email list or follow us on Facebook.
Media
For media inquiries, contact the MCM communications team.