The American Girl Benefit Sale, run by Madison Children's Museum, offers great deals on authentic American Girl dolls, accessories, and books — all for a good cause!
All benefit sale inventory is generously donated by American Girl and Mattel, and all proceeds support the work of Madison Children's Museum and American Girl's Fund for Children, which supports charitable programs for children in the Madison area. The sale is not run by American Girl or Mattel.
American Girl Benefit Sale 2023
After three years, the American Girl Benefit Sale returns to our tried-and-true in-person-only format for 2023.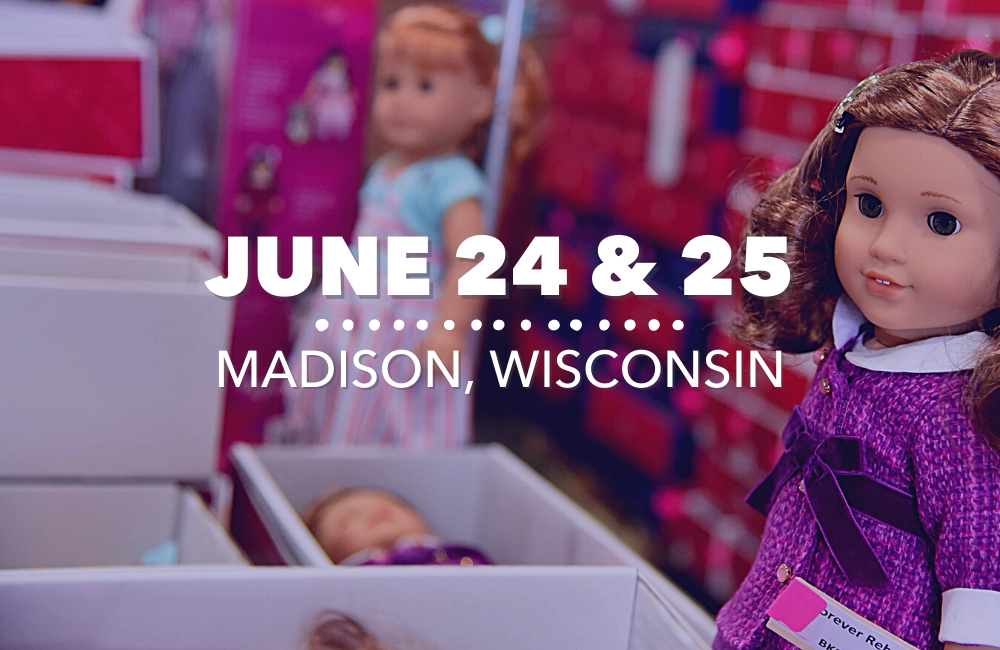 Save the dates!
Saturday & Sunday, June 24 & 25
Madison, Wisconsin
The sale will be in-person ONLY. No online ordering or shipping will be provided.
Ticket sales begin no later than May 10.
All tickets will be delivered digitally, no need to wait for the mail.
More information about tickets, format, limits, inventory, location details, and sale hours will be provided by early May. As inventory is still being donated from American Girl, we are not able to provide further information about the sale—including how many shoppers we can accommodate—at this time. We will update you as soon as we have more details confirmed. Please ensure that you stay subscribed to the AGBS mailing list (below) to receive updates.
This is a volunteer-driven BENEFIT SALE. The proceeds go to dozens of organizations working for children in the area.
AGBS is run by the volunteers & staff of Madison Children's Museum, NOT American Girl. DO NOT contact American Girl with questions about the sale. AG reward points, coupons, or gift cards cannot be used in the sale.
All sales are final, with no refunds, returns, or exchanges.
Sign up to receive AGBS information/updates
Important information about receiving AGBS emails:
Gmail users should be aware that our communications may be routed to your Promotions tab, so be sure you have the ability to check that frequently, or just enter "AGBS" in Gmail's search bar.
Do not unsubscribe! American Girl Benefit Sale emails are sent by Madison Children's Museum.

If you unsubscribe to emails from Madison Children's Museum, you are ALSO unsubscribing to all AGBS emails.
Our email service provider takes consumer privacy very seriously; if you unsubscribe yourself, we cannot manually add you back in. To re-subscribe, you will need to re-enter your information in our online subscription form, follow the prompts on subsequent screens, AND click on the link in a confirmation email before you will be added back to the list.
Still looking for more info?
Questions
If you have questions that aren't answered here, please contact us via email. Also, there is a wonderful community of veteran sale-goers and sale volunteers on our Facebook page. They are generally generous with their time and willing to give advice. We highly recommend liking the page and joining that community.
Get the Latest News
Get information and updates on merchandise and more by subscribing to our email list or follow us on Facebook.
Media
For media inquiries, contact the MCM communications team.