Museum News – December 2018
The museum will be closed all day on December 24 & 25. New this year, we will be open for a half-day on January 1, from 12 to 5 p.m.
---
Featured Events

Winter Wonder Weeks, December 26–January 6
Check the 
daily program schedule
 during Winter Wonder Weeks and stop by to cure your cabin fever! All activities are FREE with museum admission and FREE for members.
New Year's Eve Dance Party, Monday, December 31, 3–4:30 p.m.
Shake, rattle, roll, and bid farewell to 2018 at the earliest New Year's Eve party in Madison! If your little ones aren't quite ready to stay up until midnight, drop by at 3 p.m. to dance to the beats of DJ Scott Mueller, sip sparkling juice, and ring in 2019 with Auld Lang Syne.
Should Old Exhibits Be Forgot?
During Winter Wonder Week some favorite museum exhibits of the past will be coming back for a visit. Our popular Isthmus Building Table and Lego Tables from Possible-opolis of yore will be up in our Celebrations Room from noon on Sunday, December 23 to noon on Friday, January 4.
---
Other Programs
Gingerbread Weekend, December 1–2, 10 a.m.–4 p.m.
We're kicking December off with 
Casas for CASA
, a gingerbread house event hosted for 
Dane County CASA
. Visit the museum Saturday to watch teams decorate gingerbread houses, or check out the display of completed houses on Sunday! There will also be ginger-bread themed projects in the Art Studio throughout the weekend.
Wednesday, December 5, 5–8 p.m.
From 6 to 7:30 p.m., participate in programs celebrating international cultures! Learn greetings in multiple languages through an "around the world" passport experience and enjoy a screening of the Brazilian cartoon, "Jogos de Inventar" (Inventing Games). Learn more about International Night programs.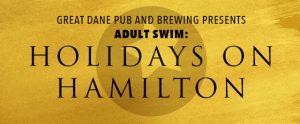 Adult Swim: Holidays on Hamilton
Friday, December 14, 6–10 p.m.
Join us for a merry, adults-only celebration of history, Hamilton, and the holidays! We are not throwing away this shot to fine tune our quill pen calligraphy, make wigs out of paper bags, and, just like the Founding Fathers in 1776, perfect our beatboxing skills. You'll wanna be in the museum when it happens! Get tickets now.
---
Exhibits Updates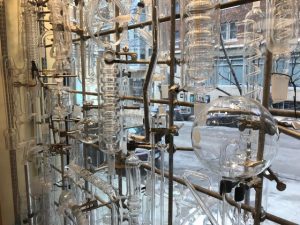 Sidewalk Suprise: the Crossroads of Art and Science

Our newest Sidewalk Suprise art installation was created by the UW-Madison Chemistry Department's scientific glassblower, Tracy Owen Drier, who also created the art piece at the beginning of our Wayback Machine exhibit, in Possible-opolis. Most people associate glassblowing with art, but it is also essential for scientific research. In order to conduct experiments, chemists need specially designed glassware that can only be made by hand. This equipment is made from a special type of glass (called Borosilicate) that can withstand sudden and extreme temperature changes.
---
Meet the Museum Staff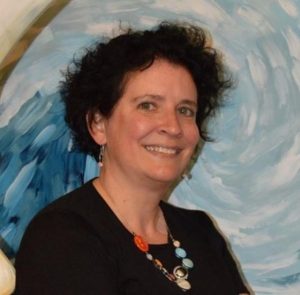 Kia Karlen, Director of Education
As a child growing up in Madison, Kia's goal was to become either a school teacher or a circus performer. Fortuitously, she discovered Madison Children's Museum shortly after graduating from UW-Madison and was able to blend the two paths into a 25-year career at the museum. As the director of education, Kia has the pleasure of overseeing a wildly creative team of educators who are committed to making the museum engaging and inclusive for the whole community.
In addition, Kia is an active musician who you may find performing around town with Yid Vicious, Black Marigold, Hirt Alpert, Capital City Band, Reptile Palace Orchestra, and other local bands. She also volunteers her time in support of local arts organizations and currently serves as chair of the Madison Arts Commission.
---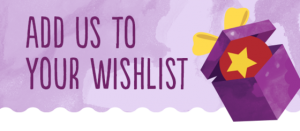 Give (or get) the gift of Madison Children's Museum!
Keep the museum in mind when you are planning your gift giving this holiday season! Museum memberships make great gifts to give—and receive! Play is so much more than fun. Pediatricians tell us that play is essential to child development, including cognitive, physical, social, and emotional well-being. A gift of museum membership is a gift of a whole year of family fun and growth. Learn more about gift memberships.
---
Programs December 1–23:
Tuesdays
Wednesdays
Thursdays
Fridays
Saturdays
Sundays