Museum News – October 2019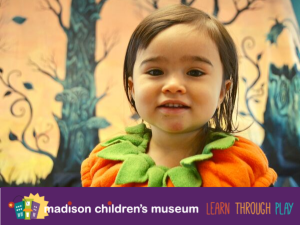 ---
Featured Events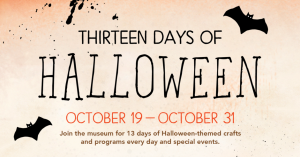 Back by popular demand, thirteen days of spooky fun, Oct 19–31!

At Madison Children's Museum, we couldn't fit all of our Halloween activities into just one day, or even one week! We are pleased to bring you 13 days of Halloween-themed activities and festivities. 
Halloween Fun Every Day:
Halloween themes during our regularly scheduled programs and activities. See our calendar for the daily schedule.
Themed crafts in the art studio daily.
Costumes are encouraged every day! Because many kids just can't get enough of their Halloween costumes!
Special Halloween Events:
Beakers & Broomsticks
Saturday, October 19, 10 a.m.–3 p.m.
It's a day of science and technology activities, with a Halloween twist. All activities are free for members or included with paid admission. 
Learn more…
Downtown Madison Family Halloween
Wednesday, October 23, 3–6 p.m.
We're staying open late as downtown businesses open their doors to trick-or-treaters. Visit and play our games for non-food (teal pumpkin safe*) treats. Visit the Community Concourse for free; the rest of the museum is open to regular admission. 
Learn more...
Baby's First Halloween
Thursday, October 31, 10 a.m.–2 p.m.
It's our most popular—and most adorable—event of the year! Join us for Halloween-themed fun for those birth to 3 years old, including a family photo booth. Free for members or included with paid admission. 
Learn more online...
Other Special Activities
All events offer kid-appropriate levels of spooky. All events are inlcuded with paid museum admission unless otherwise indicated.
---
Other Programs

Latinx Heritage Month Celebration
Wednesday, October 2, 5–8 p.m.
On the first open Wednesday night of each month, we invite our entire community to enjoy the museum for free. This Free Family Night we celebrate Latinx Heritage Month with performances by Ballet Folklórico, Carlos Soriano, and Boliviamanta; tamale tastings; and craft activities inspired by Latinx culture in Madison and around the world.
Wednesday, October 9, 5–8 p.m.
Join us for special visiting hours just for children and families affected by Autism Spectrum Disorder (ASD) and/or sensory challenges. Sensory-Friendly Museum Times are free to all attendees. Pre-registration is not required, but pre-registered families will be able to take advantage of express check-in.
Learn more and register online...

Adult Swim: Time Warp
Friday, November 1, 6–10 p.m.
Gas up the Delorian, Windex the Tardis, or fill the hot tub… Adult Swim is going back in time for a celebration of time travel and every genre is fair game. Grown-ups (21+) take over the museum during Adult Swim; come see why Adult Swim is one of Madison's favorite night-out activities!
---
Exhibits Update
Rooftop Updates for Accessibility, Inclusion, and Green Energy
The latest phase of updates to our popular Rooftop Ramble was completed during our annual maintenance closure at the beginning of September. As part of our ongoing efforts to make all our spaces as inclusive as possible, we replaced the rough stone patio between the elevator entrance and the Clubhouse with a smooth surface that's much more wheelchair-, scooter-, and stroller-friendly. In addition to providing a smoother surface, the patio has a kid-scaled maze incorporated into its surface.
Also, we reworked our rooftop water feature to include a more splash-accessible pool, a new patio with a reading area and a picnic table, and a brand new water wheel (pictured above). The water wheel is part of our new Forces of Nature installations on the rooftop which explore sources for green energy. In addition to the water wheel, check out the wind tower, the solar flowers, and the "electric" car. 
Other exhibit additions to look for within the museum include My Planet, My Future, a display across from our front desk on how kids are acting to address climate change; the new "pirate cabin" additions to the playhouse under the stairs near the cafe; additions to the Wayback Machine on the second floor; and more. All of our exhibits are designed and created by our in-house Exhibits team and are often fabricated in collaboration with local artists and artisans.
---
Meet the Museum Staff
Jonathan Zarov, Director of Marketing
Jonathan likes working at Madison Children's Museum so much he's done it twice. Back when the museum was on State Street, we recruited Jonathan from Madison Art Center (now MMOCA) to be our marketing director. He eventually left the children's museum, only to return six years ago. In the 17 years in between, Jonathan has had a few jobs, including VP of marketing at Overture Center and associate dean for external affairs at UW-Madison Law School.

As marketing director, Jonathan leads the team that produces all the advertising and publicity for the museum. The marketing team also manages the museum website, social media accounts, print pieces, and runs our front desk operations. He has a particular interest in writing and editing and loves to play with words. He cites the incredibly creative and upbeat staff at the museum—and the positive vibe of families on the floor playing, learning, and laughing—as key draws to the job.

When not working at the museum, Jonathan serves on the Downtown Madison Business Improvement District (BID) board, hosts the Friday Buzz radio show on WORT (8 to 9 a.m., 89.9 FM), and plays in Loving Cup (a Rolling Stones tribute band, featuring members of VO5). He is also the best plastic-bag playing percussionist in the world–and he says he can teach you to be the second-best very quickly, if you'd like to learn. 
---
Become a Museum Member!
Madison Children's Museum membership offers more than just a year of unlimited admission; it's your family's invitation to exclusive events, exciting classes, special discounts, and more. And you can take your membership on the road, where you'll get free or half-priced admission to hundreds of museums and science centers. Learn about these and other benefits and pick your membership level online.
Discounted Memberships
---
Madison Children's Museum connects children with their families, their communities,
and the world beyond through discovery learning and creative play.