Museum News – March 2019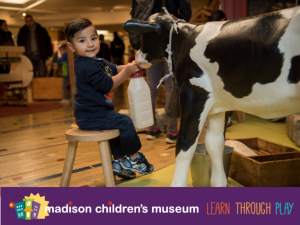 Featured Events

This Saturday, March 2, 10 a.m.–5 p.m.
Join us for a dino-mite event that is full of as much paleontological fun as a Titanosaur! Learn about the size and scale of dinosaurs, explore the past with fossil digs, and create ext-ROAR-dinary fossil-inspired art. Dino Day is sure to transform any ptera–ble mood into one of delight. View the full list of activities, including special programs for "hatchlings" on our website.

March 23–31, 2019
Your stay-cation destination for innovation and imagination
Avoid schools-out frustration with a change of location! Come to Madison Children's Museum for daily activities designed to stimulate the imagination (as well as fine motor skills). It's a celebration of kid innovation, to wrangle complication, and through dedication, observation—and sometimes perspiration—to create something worthy of ovation.
Featured Activity: Amaze-Maze
March 25–31, 10 a.m.–4 p.m., Celebrations Room
Crawl, wiggle, and clamber though out kid-sized labyrinth made from up-cycled materials. During Spring Break: Creation Destination, we're transforming our celebrations rooms into a 3D maze just for kids! 
---
Other Programs

Wednesday, March 6, 5–8 p.m.
On the first open Wednesday night of each month, we invite our entire community to enjoy the museum for free. Free Family Night is a great time for first-time visitors to enjoy the museum and is a popular time for older children to return to visit their favorite exhibits.

Friday, March 8, 6–10 p.m.
At Adult Swim, grown-ups take over the museum! This swim we're going post-apocalyptic: from a DIY zombie makeup station to laser tag in the Wildernest, the end of the world has never been so much fun! Ages 21+ Learn more or buy tickets on our website.

Camp Registration Is Open for All
---
Meet the Museum Staff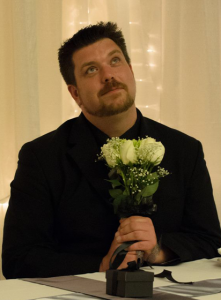 Belmont, Facility Rental Coordinator

Belmont, who goes by his surname, was born and raised in Kenosha, Wisconsin. While working at a hotel in Eau Claire, he had to fill in for an injured wedding planner and found his passion. 
Since then, he's helped plan a wonderful 483 weddings over two decades in the wedding industry.
Belmont has been recognized for his work at the museum and in the broader wedding industry, where he is a respected leader amongst his peers. His hard work here was a key factor in our winning "Best Unique Venue 2018" from Wisconsin Bride Magazine. For his work with the National Association of Wedding Professionals, Belmont was recently awarded Member of the Year for Madison, as well as National Member for the Year, and the National Innovation Award. 
---
Exhibits Update
News: Rooftop Refresh

We are embarking on the first phase of rooftop renovations this spring. We're adding features teaching about green energy, including a mechanical, solar-powered, moving flower and a 15-foot windmill circulating rainwater. Additionally, our Clubhouse will be remodeled to a more open format, more accessible to all, and we'll generally spruce up the entire area.
This will require some downtime with the roof closed to visitors. As we didn't want to take a minute away from glorious Madison summer on the rooftop, we're doing the work in two phases. Phase I is April 1 through May 15. Phase II happens in September. Watch our future newsletters for updates.
Collections Case: Play Africa!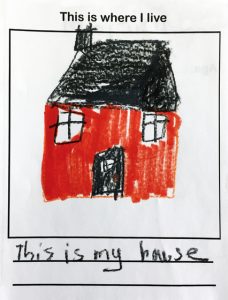 We previously featured the cultural exchange project conducted by museum intern Shiloah Coley on our blog. Now you can experience the work yourself as part of the newest addition to our Collections Case exhibit.
Last summer Shiloah visited Johannesburg, South Africa as part of an exchange with their children's museum, Play Africa. As part of her project, she had kids at both museums draw and write about their lives. The results of her work and this cultural exchange are on display right across from our front check-in desk—and the exchange continues. Visitors are invited to make a drawing of their own and pop it in the box to be sent across the Atlantic to Play Africa!
---
Become a Museum Member!
Madison Children's Museum membership offers more than just a year of unlimited admission; it's your family's invitation to exclusive events, exciting classes, special discounts, and more. Members receive 10% off camp registration, workshops, Adult Swim tickets, and other programs and events. Members also receive early access to registration for popular events like summer camps. And you can take your membership on the road, where you'll get free or half-priced admission to hundreds of museums and science centers. Learn about these and other benefits and pick your membership level online.
Discounted Memberships
---
Drop-In Programs, March 1–22*:
Mondays
Note: The museum is closed most Mondays during the school year. We will be OPEN on Monday, March 24 for Spring Break: Creation Destination.
Tuesdays
Wednesdays
Thursdays
Fridays
Saturdays
Sundays
Visit our website for a full list of programs and events.
---
Madison Children's Museum connects children with their families, their communities,
and the world beyond through discovery learning and creative play.