Museum News – June 2019
Welcome to Summer at Madison Children's Museum!
Starting Monday, June 3, the museum will be open seven days a week! (Our school-year, Tuesday–Sunday schedule resumes with Labor Day.) Our hours are 9:30 a.m.–5 p.m. Visit often and join in our wealth of engaging, brain-building summer programs.
---
Featured Events

Saturday, June 8
Kick off summer downtown with a spectacular festival in and outside of Madison Children's Museum. For this one day a year, the museum is open to all for FREE!
Join us for special performances and activities including the Wild Rumpus Try-It Circus, Zoo to You, balloon art, and performances by Get Back Wisconsin, Forward Marching Band, and Black Star Drum Line, all free, including our grand parade around the Capitol Square at noon!

View the full list of activities.

Saturday, June 29, 10 a.m.–4 p.m.
Polish your broomsticks and dust off your school robes for Madison Children's Museum's Wizard Academy! Join us for a full day of witchy scholarship and magical mayhem while you rack up house points for your team. All activities are free with museum admission.
View the full list of activities.

Adult Swim: Summer Camp
Friday, June 21, 6–10 p.m.
Join Madison Children's Museum and our programming partner, Badgerland Girl Scouts, for classic summer camp crafts, outdoor games, and a rooftop singalong with Hoot 'n Annie. Braid lanyards, compete in the Color Wars, practice outdoor survival skills, and more.
View the full list of activities and get tickets.

Access for Everyone campaign continues through June 16
Every child deserves the opportunity to learn through play at the museum, regardless of economic, cognitive, or cultural barriers. Our Access for Everyone programs are designed to lower barriers to visiting and participating in our museum and our community. When you visit now through June 16 you can give a donation and add a leaf to our Access tree! Learn more about the Access for Everyone campaign.
---
Exhibits News
New Forces of Nature on the Rooftop Ramble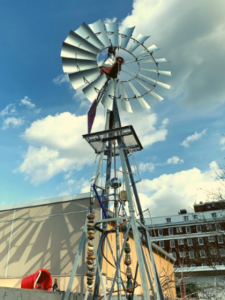 How can we begin to imagine the potential harnessed power of the sun and the wind?
Forces of Nature is a new initiative, recently installed on the museum's Rooftop Ramble, that uses a windmill and solar-powered flowers to teach children about sustainable ways of collecting, producing, and using wind and solar energy.
New Windows to the Past exhibit: Stitch in Time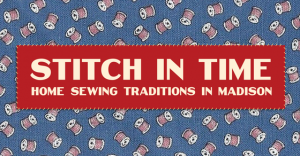 During Free Family Night on Wednesday, June 5, join us for the grand opening of Stitch in Time: Home Sewing Traditions in Madison. 
For much of Wisconsin's history, most clothing was home sewn, not bought in a store. In Stitch in Time, kids can play dress up in historical clothing, see pictures of historical Madison-area sewing classes, and learn about the art and craft of hand sewing. Stitch in Time is part of Madison Children's Museum's rotating Windows to the Past exhibit space.
---
Other Programs

Wednesday, June 5, 5–8 p.m.
On the first open Wednesday night of each month, we invite our entire community to enjoy the museum for free.
Special Event: Music and Stories on the Rooftop, 6–7 p.m.
Join us on the Rooftop Ramble for music and puppets from 6–6:30 p.m. From 6:30–7 p.m., join local author Dineo Dowd, who will share her books Sunset Hike and Adventure Day, which aim to inspire kids from all cultures to explore the outdoors. The readings will take place at 6:30 p.m. and will be followed by a rooftop scavenger hunt. 
Free Family Night is a great time for first-time visitors to enjoy the museum and is a popular time for older children to return to visit their favorite exhibits. 
Free Family Night is an Access for Everyone program. Learn more about Free Family Nights.
---
Meet the Museum Staff

Dani Luckett, Director of Development
Dani may have been born in Louisville, Kentucky, and raised in Birmingham, Alabama, but she's passionate about building community resources for Madison children and families. As the director of development, Dani works to build relationships with friends and leaders in the community who have an interest in supporting the museum with their time, talent, and treasure. Together, they aim to ensure that every child and family in Madison (and beyond) can enjoy and benefit from all that the museum has to offer.
Dani tells us she wanted to work with the museum because "Education is a philanthropic passion of mine, so being a part of the museum has been a dream come true for me." She came to the museum from United Way of Dane County. Before that she worked at the University of Wisconsin Foundation and several prominent Midwest arts organizations. 
For the past four years, Dani has led our efforts to build support for all of the amazing work—and play—that goes on within the museum. "I'm most proud of our work to improve service to families with kids on the autism spectrum, thanks to a major gift from one of our most generous donors. In just a few short years, this program has garnered national attention in the museum field, but, most importantly, has transformed the museum's capacity and ability to better serve all children and families." With Dani's help, we hope to continue this tradition of transformative leadership for Madison families.
---

Shop to support the museum
Only 100 tickets remain for this one-of-a-kind sale! The American Girl Benefit Sale, held this year on Saturday and Sunday, July 20 & 21, offers great deals on authentic American Girl dolls, accessories, and books. All benefit sale inventory is generously donated by American Girl and Mattel, and all proceeds support the work of Madison Children's Museum and American Girl's Fund for Children. Learn more about the sale and buy tickets for Saturday.
---
Become a Museum Member!
Madison Children's Museum membership offers more than just a year of unlimited admission; it's your family's invitation to exclusive events, exciting classes, special discounts, and more. And you can take your membership on the road, where you'll get free or half-priced admission to hundreds of museums and science centers. Learn about these and other benefits and pick your membership level online.
Discounted Memberships
---
Education Programs, June 2019
Our talented and expert education staff offer high-quality programs and activities including music, art, and crafting workshops—available to all visitors just for the price of admission! No registration is needed, just check our schedule and come to what appeals to you and your child.
STEAM Sundays: Stimulate creativity and curiosity with programs designed to develop skills in science, technology, engineering, art, and mathematics.
Mondays: Early Explorers Day features programs designed to support the growing minds and bodies of our youngest visitors, from birth through preschool.
Tuesdays–Fridays:Exploration Stations at 10 a.m. and Maker Spacesat 1 p.m. Each week will have hands-on activities inspired by a new theme. Other programs may also be added, so keep an eye on the calendar!
Special Events Saturdays: We're keeping the Saturday schedule clear for special events like SummerPalooza on June 8 and Wizard Academy on Saturday, June 29. And of course, every Saturday morning is special with the Dane County Farmers' Market right outside our door until 1:45 p.m. Stop by the museum to let your kids play out their wiggles and then get your fresh produce, flowers, and cheese bread (yum!).
Visit our website for a full list of upcoming programs and events.
---
Madison Children's Museum connects children with their families, their communities,
and the world beyond through discovery learning and creative play.