Museum News – July 2019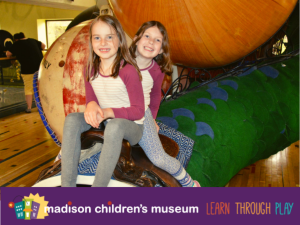 Please note, Madison Children's Museum will be closed all day on July 4.
---
Featured Events

July 20 & 21 in Middleton
It's our biggest fundraiser of the year! The American Girl Benefit Sale, held this year on Saturday and Sunday, July 20 & 21, offers great deals on authentic American Girl dolls, accessories, and books. All benefit sale inventory is generously donated by American Girl and Mattel, and all proceeds support the work of Madison Children's Museum and American Girl's Fund for Children. 
How to shop: Saturday tickets are now SOLD OUT; however, people often donate back unused tickets, which we resell at the info booth, so stop by and see what we have available. Sunday tickets for entry times from 9 a.m. to noon are distributed for free starting at 7 a.m.

Saturday, July 27, 10 a.m.–4 p.m.
Take a deep breath and dive into a day of underwater worlds and wonders! Featuring activities for both "Small Fry" (ages 0–3) and "Fingerlings" (ages 3 & up). All activities are free with museum admission. 
View the full list of activities.
---
Other Programs
Wednesday, July 3, 5–8 p.m.
On the first open Wednesday night of each month, we invite our entire community to enjoy the museum for free. 
Free Family Night is a great time for first-time visitors to enjoy the museum and is a popular time for older children to return to visit their favorite exhibits. 
Free Family Night is an Access for Everyone program. Learn more about Free Family Nights.
---
Exhibits News
Watch how our exhibits are made!
Have you ever wondered how exhibits at the museum are created? Now, you can watch as our in-house exhibit and artistic team transform our Windows to the Past space into our newest exhibit, Stitch in Time: Home Sewing Traditions in Madison. View the video below, and then check out the exhibit, just next to our front desk, when you come to visit!
---
Meet the Museum Staff

Hanna Lichtenstein, Visitor Experience Coordinator
Hanna is one of the newest members of Madison Children's Museum staff, joining us as our new visitor experience coordinator at the beginning of summer. They bring a wealth of experience to the museum, both professional and geographic. Prior to coming to Wisconsin, Hanna grew up on the coast of New Jersey, studied Wildlife Conservation at Virginia Tech, and moved to Guilin, China to teach English. They moved to Madison to pursue a degree in Global Higher Education at UW-Madison.
As the visitor experience coordinator, Hanna collaborates across departments to ensure a welcoming, imaginative, joyful learning environment for all visitors and also works with and supports our discovery guide team. Hanna says "seeing a thousand moments of learning through play a day is one of my favorite things about working here. Being a part of a creative environment that is always working toward inclusivity has been a generative and exciting experience that I am grateful to continue." We're excited to welcome Hanna to the Madison Children's Museum community.
---
Become a Museum Member!
Madison Children's Museum membership offers more than just a year of unlimited admission; it's your family's invitation to exclusive events, exciting classes, special discounts, and more. And you can take your membership on the road, where you'll get free or half-priced admission to hundreds of museums and science centers. Learn about these and other benefits and pick your membership level online.
Discounted Memberships
---
July Education Programs
Our talented and expert education staff offer high-quality programs and activities, including music, art, and crafting workshops—available to all visitors just for the price of admission! 
STEAM Sundays: Stimulate creativity and curiosity with programs designed to develop skills in science, technology, engineering, art, and mathematics.
Mondays: Early Explorers Day features programs designed to support the growing minds and bodies of our youngest visitors, from birth through preschool.
Tuesdays–Fridays: Exploration Stations at 10 a.m. and Maker Spaces at 1 p.m. Each week will offer hands-on activities inspired by a new theme. Other programs may also be added, so keep an eye on the calendar!
No pre-registration is needed for museum general admission programs; just check our schedule and come to what appeals to you and your child!
---
Madison Children's Museum connects children with their families, their communities,
and the world beyond through discovery learning and creative play.