Museum News – February 2019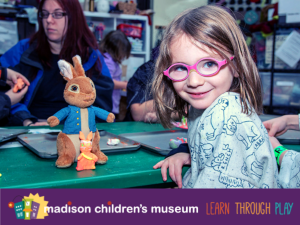 Museum Members Early Registration Starts Feb. 6 at 9 a.m., Public Registration Starts Feb. 13 at 9 a.m.
What better to take our minds off the frosty conditions than making plans for summer? Our list of 2019 summer camps is now online! From designing couture fashions, to enrolling at wizard academy, to honing their detective skills — kids at our half-day camps have fun while learning and practicing creative problem-solving.
Our summer camps fill up fast, so get ready. Members get a one-week head start on registration and a 10% discount. Become a member now!
---

Saturday, February 2, 10 a.m. – 4 p.m.
It's our third annual celebration of National Poop Day (observed)! Poop Day is a fun way to explore an aspect of human life that's important to our daily health, and which also claims an outsized share of attention in the world of small children. Visit for (hygienic) poop-themed activities throughout the museum, all free with admission. Learn more.

February is National Children's Dental Health Month. Come celebrate your smiles and learn about dental health with fun activities from area dental offices. Create dental models, practice brushing skills, and learn what sugar does to your teeth. Also get giveaways to help make dental health fun!
---
Other Programs
Wednesday, February 6, 5–8 p.m.
Celebrate Black History Month at our upcoming Free Family Fun night with art, dance, and storytelling activities created and informed by African American traditions and talents. The museum will be free and open to all from 5 to 8 p.m. Free Family Night is a great time for first-time visitors to enjoy the museum. It's also a popular time for older children to return to visit their favorite exhibits.
---
Meet the Museum Staff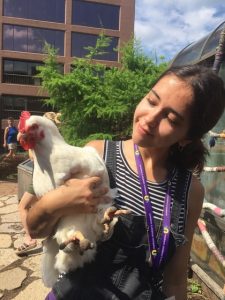 Allie Dunham, Volunteer Coordinator & Education Supervisor
Allie joined Madison Children's Museum in 2017, bringing a strong background in both science and the humanities from her studies at UW-Madison and her work as an assistant curator at the UW Zoology Museum, a tour guide with the UW Geology Museum—and time with the UW Herbarium and UW Insect Research Collection program. She started working behind our front desk as a marketing associate and, in her words, "slowly infiltrated the rest of the museum, working also as a communications assistant and discovery guide."
After she wowed staff and visitors alike, we were thrilled to promote Allie to become our new volunteer coordinator and education supervisor this past September. She says "the best part about my job is working with the incredibly compassionate, knowledgeable, and diverse community of volunteers in Madison, and taking my breaks on the Rooftop Ramble with Earl the Snake or Pearl the Chicken!" 
---
Exhibits Update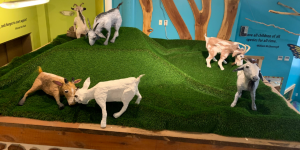 Who's that trip-trapping over our… roof?

In a nod to Wisconsin's Scandinavian heritage, the roof of our Cozy Cottage has been taken over by a herd of tiny, adorable goats! These paper-mache critters are the newest addition to our continually changing museum. Madison Children's Museum has a number of talented artists on staff, and the goats were created in-house, largely out of donated and recycled materials. The goats can be seen in our Wildernest exhibit on the ground floor.
---
Become a Museum Member!
Madison Children's Museum membership offers more than just a year of unlimited admission; it's your family's invitation to exclusive events, exciting classes, special discounts, and more. Members receive 10% off camp registration, workshops, Adult Swim tickets, and other programs and events. Members also receive early access to registration for popular events like summer camps. And you can take your membership on the road, where you'll get free or half-priced admission to hundreds of museums and science centers. Learn about these and other benefits and pick your membership level online.
Discounted Memberships
---
February Programs
Mondays
Tuesdays
Wednesdays
Thursdays
Fridays
Saturdays
Sundays
Visit our website for a full list of programs and events.
---
Madison Children's Museum connects children with their families, their communities,
and the world beyond through discovery learning and creative play.