Response to the COVID-19 Pandemic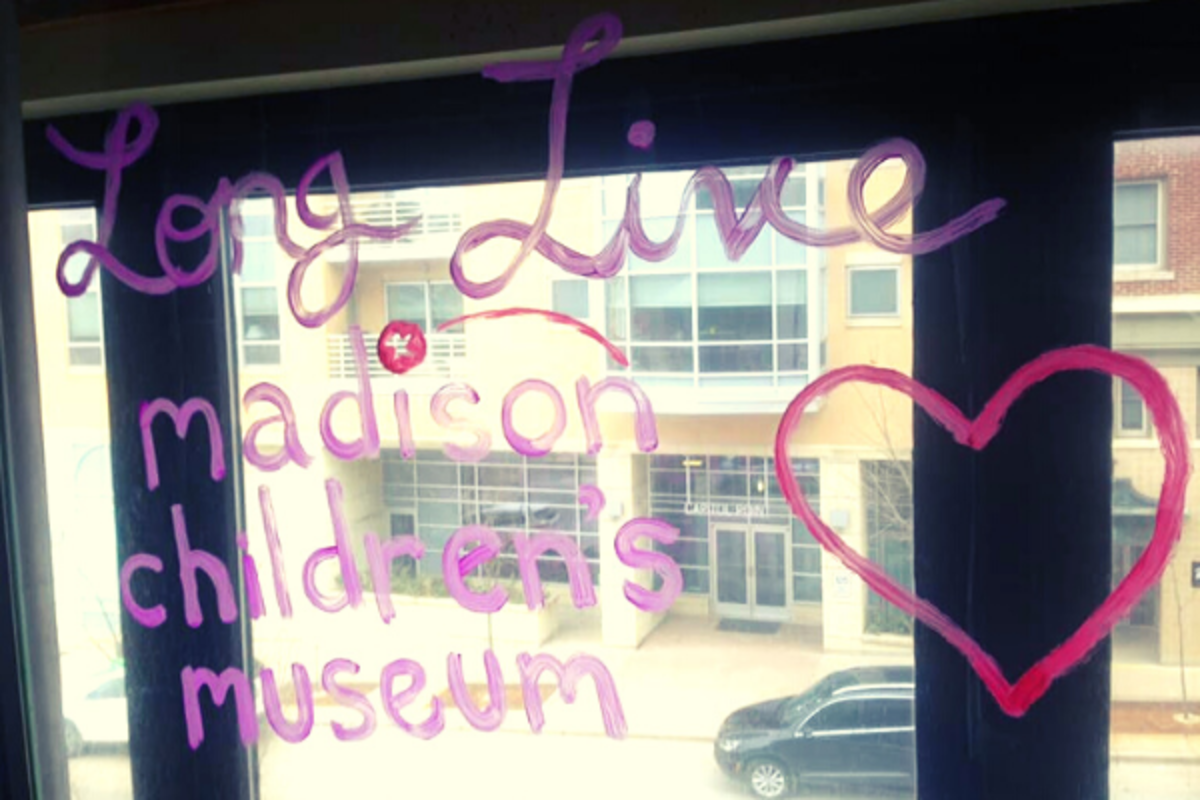 February 2020
"Can we go to the children's museum yet?"
With vaccinations rolling out, we're getting more questions about reopening and the status of various programs. And that's a good thing! 
Madison Children's Museum is currently projecting to reopen to visitors sometime this summer. 
We're aware that many local school districts are offering in-person learning using distancing methods that wouldn't be possible to replicate in our interactive museum. We will continue to observe what works best for both our local schools and other museums around the country and to consult with public health authorities so that when we reopen we will do so as safely as possible for our visitors, staff, and community. We look forward to seeing everyone in the museum again this summer.
"What about special programs and events?" We don't yet know if we will offer summer camps. We are also still determining options for the American Girl Benefit Sale. We are not taking bookings for birthday parties until after we reopen. For those interested in hosting a wedding or other rental in 2021 and beyond, we are filing requests and creating a contact list to reach out to in spring, when we hope to resume booking.
In the meantime, we are hard at work planning for reopening, with our current focus on the new, 10,000-square-foot exhibit planned for our former parking lot. Please consider supporting our efforts through Our Future in Play.
July, 2020
Membership Concerns During COVID-19
Will my membership be extended to make up for lost time due to the museum closure during the COVID pandemic?
Yes, we want you to get the full value of your membership. When we reopen the museum your membership will be extended for the amount of time we have been closed. The primary adult on the membership will receive an email with their updated membership information. Your digital card membership card will be updated too.
My membership expired while the museum was closed; will my membership get extended too?
Yes, even if your membership expired during the closure period—between 3/15/2020 and when we reopen—your membership will be extended. We want you to get the full value of your membership. The primary adult on the membership will receive an email with their updated membership information. Your digital card membership card will be updated too.
May 15, 2020
The Work Continues
Madison Children's Museum has been closed to the public since March 14, 2020. We knew even before the Safer at Home guidelines went into effect that closing was the right thing to do for the safety of the community.In the latter half of March, we had to furlough most of our staff—either entirely, or down to just a few hours a week. Our focus was on ensuring the museum's stability—caring for the building, supporting staff, ensuring financial strength, and rehoming our rooftop animals, for instance—as well as searching for additional funding to keep us going.
Museum board volunteers helped secure a CARES Act Payroll Protection Program loan of approximately $400,000, which provided immediate relief for staffing and other facility operating costs for eight weeks (April 13 to June 5, 2020).
Securing the loan/grant allowed us to bring back the majority of our staff. The loan is designed to be forgiven if certain conditions are met—basically, staying staffed for the period of the loan. We are on track to have nearly 90% of the loan forgiven. Unfortunately, the funds were not sufficient to retain many of our frontline staff—friendly faces you see at our front desk and out on the floor. We hope to reemploy many of those valued individuals when we reopen.For now, budgeting remains tight. CEO Deb Gilpin is currently donating half of her salary back to the museum to help the museum get by. We've received a number of generous donations from individuals, businesses, and granting agencies since the closure. Anyone able and willing to help the museum can make a donation here. Your help is much appreciated.
With the museum closed and almost everyone working from home, many staff needed to be assigned new roles and tasks. They've risen to the occasion with their usual skill, creative thinking, grace, and humor.
With the time that the grant allows, we're focusing on supporting children and families both online and within the community, doing critical administrative tasks to build our strength, and also re-imagining ways that a children's museum can best serve our community in a post-COVID-19 world.
Support children and families online and in the community:
MCM at Home and other online events and resources
Shortly after the museum closed we launched MCM at Home, an initiative to take some of our most popular in-museum programs and convert them to a digital format that caregivers could use to keep kids learning through play, even during the quarantine. With very little content online for preschoolers, that is our focus.  With additional staffing, we've been able to expand and add more MCM at Home videos, as well as develop resources on our other social media platforms. Follow us on YouTube, Facebook, Instagram, and Pinterest for more of the creative, educational play ideas you value in the museum.In addition, we're working on creating other online resources, from scavenger hunts on our Instagram page, to online member projects, to special events like an online-only SummerPalooza (more details to come soon).
MCM in the Community
Children need active play to keep their minds and bodies healthy. Yet, in addition to the museum being closed, playgrounds, gyms, pools, sports, and many of the other places that caregivers counted on for safe, physical play are also gone. With this in mind, our exhibits team is working on projects to offer safe play options to kids within the community.
Our Sidewalk Surprises program will launch at the end of May. Look for interactive, artful popups all around town. You'll see hopscotch chalk drawings and other playful, interactive amusements rich with cultural and STEM references. Of course, there are many considerations to roll this out safely, in a way that doesn't encourage groups to mingle and congregate. We've been working closely with the city to ensure that we don't run counter to any public health guidelines.
We're also working on other smaller initiatives. For instance, before Mother's Day weekend we delivered gifts, greeting cards, and art kits to families at the YWCA—a valued partner organization and neighbor of the museum. Look for more updates in future newsletters.
When will Madison Children's Museum reopen?
Like everyone, we're eager for life to be able to get back to normal, to rejoin in community, to leave home, and revisit so many favorite places. However, the safety and health of our visitors, our staff, and our whole community is our primary concern.  We are not going to reopen until we're confident we can do so safely.
Taking into account all of our research, conversations with experts, and self-assessment, we've decided that, even in a best-case scenario, we could not open before September 1, 2020. Accordingly, we are canceling all of our summer camps, wedding rentals, and other events up to that date. It's hard for us to give up on our site being open in summer, which is our busiest season, but it's clear that this is the right thing to do.
Predicting a realistic reopening date is much harder. We're paying close attention to public health experts and peer institutions across the country, but nobody really knows what course this disease will take. That said, we are preparing scenarios to reopen between September of 2020 and March of 2021.
We hope you and yours are weathering these days of unprecedented challenges, staying safe and healthy. If you can think of needs the museum might be able to fill to ease the burden on families, please contact us.
---
March 13, 2020
How to Support Madison Children's Museum
Madison Children's Museum is committed to families and children in our community. At this time, it's uncertain when the museum will reopen. We rely heavily on admissions and event revenue and, like many of our fellow nonprofits, we face unprecedented challenges in the days to come. However, our forty-year history has taught us that a small group of dedicated people, when backed by a supportive community, can do amazing things against all odds. Even at a "social distance" you can act now to support the museum.
When you buy tickets online you can use them any day that the museum is open and they never expire. As a bonus for visitors making an investment in the museum by buying while we're closed when the museum opens we will mail you one guest pass for every order of two or more tickets you place during the closure. You can use these passes for extra visits for your family, or give them to friends.
Buy Museum Tickets
Members support the work of Madison Children's Museum and get free admission for the full year, as well as a wealth of other benefits depending on membership level, including free or 50% admission to hundreds of other museums. Madison Children's Museum will extend all new and current memberships by one month for each month that the museum is closed.
Become a Member
Your gift to the museum will ensure that we make it through the difficult days ahead. More importantly, your gift will help us continue to provide a healthy abundance of joy and wonder to children and families when they need it most.
Give a Gift Today
Madison Children's Museum is a privately funded nonprofit organization. The museum does not receive direct funding from the City of Madison or the State of Wisconsin; rather, we rely on both the generosity of our community and revenue from daily visitors to operate. Your generosity is deeply appreciated, and we will "play it forward" to the children of Madison and Dane County.
---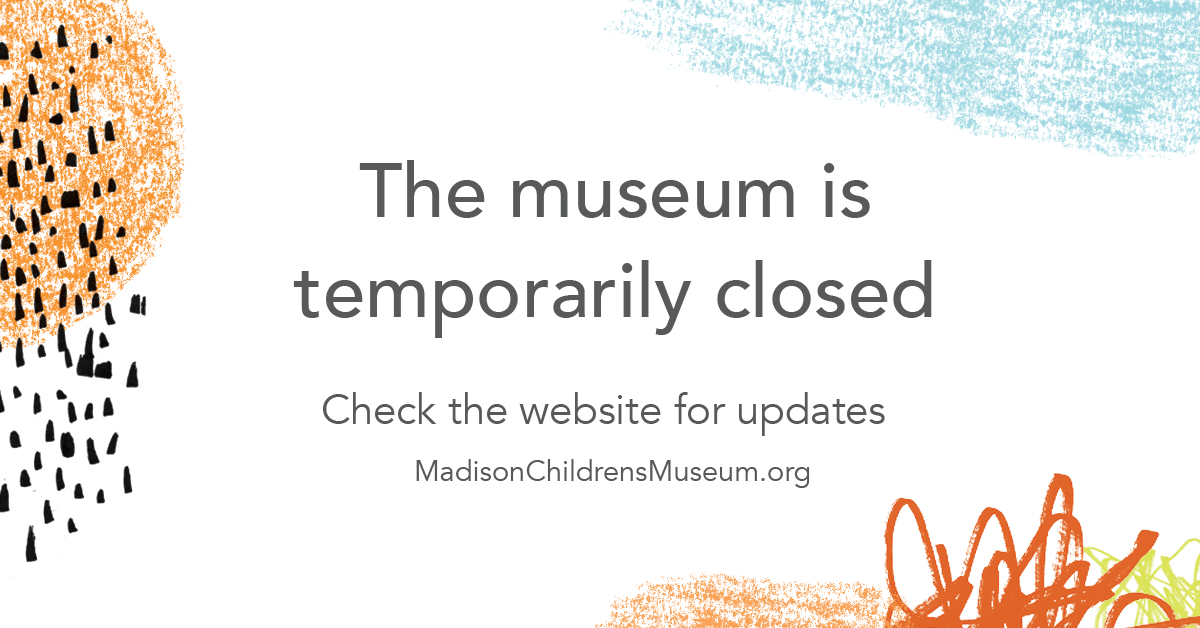 March 13, 2020
Closure Announcement
Madison Children's Museum will temporarily close to the public beginning at 5 p.m. on Friday, March 13, 2020, in response to the COVID-19 pandemic.
While we know of no confirmed cases in museum staff or guests, the museum is closing out of an abundance of caution, in accordance with local public health recommendations to keep our community safe. The museum will remain closed for a minimum of two weeks. All events at the museum will be rescheduled or canceled. Museum leadership will confer to review the situation and recommendations from health authorities to decide when the museum can safely reopen.
Staff will continue to care for the animals and plants inside the museum. A small number of staff members will continue working remotely, at deeply reduced hours. We ask that people who need to contact the museum, or individual staff, exercise patience. Non-essential messages will be returned once we have fully reopened.
We encourage caregivers to follow us on Facebook and Instagram. We will offer educational and interactive activities and information to help families with young children through what might feel like long, trying days. We all need to get creative about how we will sustain community in a "social distancing" world.
Madison Children's Museum is a privately funded nonprofit organization. The museum does not receive direct funding from the City of Madison or the State of Wisconsin; rather, we rely on both the generosity of our community and revenue from daily visitors to operate. Thank you for your understanding and please consider giving to the museum to help sustain our organization during this challenging time. Love is also contagious.
Updates and information regarding reopening will be provided to the public via this page on the museum's website, email lists, and social media accounts (Facebook, Instagram, Twitter).
Take care of yourself and your family; take care of each other.