Museum News – February 2020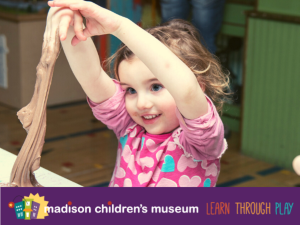 ---
Special Events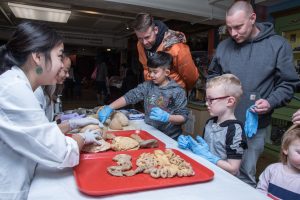 Poop Day
Saturday, February 1, 10 a.m.–5 p.m.
Madison Children's Museum holds our fourth annual celebration of National Poop Day (observed)! Poop Day is a fun way to explore an aspect of human life that's important to our daily health, and which also claims an outsized share of attention in the world of small children. Learn more about how we came to have an annual Poop Day celebration and view the full list of activities on our website.
Leap Day
Saturday, February 29, 10 a.m.–5 p.m.
Join us for an event so amazing it can only happen once every four years! We celebrate this rarest of dates with activities that honor leaping and our favorite animals that leap. Make origami frogs, launch mini-catapults, measure your jumping skills, and more! Learn more on our website…

Adult Swim: Glow Zone
Friday, February 7, 6–10 p.m.
Shake off the dark days of winter with an incandescent museum party for grown-ups! Paint with glow in the dark colors, make LED fashion accessories, screenprint a blacklight t-shirt, drink luminescent cocktails, and dance to the beats of our DJ. See more activities and get tickets…
---
Other Programs
Wednesday, February 5, 5–8 p.m.
Join us for special visiting hours just for children and families affected by Autism Spectrum Disorder (ASD) and/or sensory challenges. Pre-registration is not required, but pre-registered families will be able to take advantage of express check-in. Walk-ins are welcome. Sensory-Friendly Nights are free to all attendees. Register and learn more…
Visit our website for a full list of upcoming programs and events.
---
Get ready to register for summer camps at the museum!
Registration opens Feb. 5 for members, Feb. 12 for non-members
From magic to mystery, fashion to food, summer camps at Madison Children's Museum are designed by the museum's education team of skilled educators and child development experts, incorporating the museum's philosophy of "learn through play." View the full list of camps and learn about registration, scholarships, and member early access…
---
Meet the Museum Staff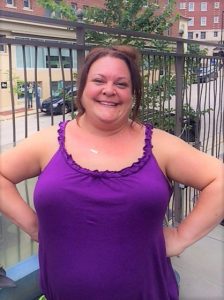 Heather Davis, Early Learning Manager

Heather Davis has worked as an early childhood educator for over 12 years in the Madison and Washington D.C. areas. She is a Madison native and a University of Wisconsin-Madison alumna with degrees in Human Development and Family Studies, and Social Work. Heather has a passion for working with young children and families and has the highest respect for children and their abilities. She also recognizes the significant role that environment plays in education and the great value of opportunities to connect children with their community and the world around them.
Heather's office is right outside of the baby area in the Wildrenest, and she generally hosts our programs for little kids, including Early Explorers Playgroup and Baby Doll Bath Time. She is a great resource for all your questions about child development and how to engage in educational play, both in the museum and at home.
---

We're seeking a Development Special Events Manager
Madison Children's Museum is seeking an addition to our top-notch development team. This position offers flexibility and a part-time option is available to those with adequate experience. Applications preferred by February 2, but will be accepted into February.
Read the application and apply.
---
Become a Museum Member!
Madison Children's Museum membership offers more than just a year of unlimited admission; it's your family's invitation to exclusive events, exciting classes, special discounts, and more. And you can take your membership on the road, where you'll get free or half-priced admission to hundreds of museums and science centers. Learn about these and other benefits and pick your membership level online.
---
Madison Children's Museum connects children with their families, their communities,
and the world beyond through discovery learning and creative play.