With renaming of Opera Center, extraordinary donor Margaret C. Winston finally gets her due
The Capital Times

By Lindsay Christians
Finally, one of Madison's most generous "anonymous friends" has a name.
Dr. Margaret Winston, a ground-breaking radiologist, world traveler, astute financial manager and deeply passionate supporter of the arts, lived most of her 86 years in Madison.
When she died on Sept. 12, she requested no obituary or memorial service. Born in Seattle and raised in the Twin Cities and the San Francisco Bay area, Winston never married or had children. Family members live on the West Coast.
So it wasn't until Sunday, Nov. 2, when Madison Opera renamed its home at 335 W. Mifflin St. as the Margaret C. Winston Opera Center, that the myriad local nonprofits Winston supported began to come together.
"The depth and breadth of her giving we'll never know," said Kathryn Smith, general director of Madison Opera. "She was an anonymous donor to so many organizations … we don't know what they all are."
Sources say Winston, who both earned and inherited her fortune, donated to Children's Theater of Madison, Madison Youth Choirs, Bach Dancing and Dynamite Society, the YWCA, Wisconsin Public Television and the Madison Public Library.
Among dozens of "interested parties" listed in Winston's will are the Dane County Humane Society, the Salvation Army, the Madison Audubon Society, the National Trust for Historic Preservation and the Wisconsin Nature Conservancy.
She gave to the Chazen Museum of Art, Easter Seal Society of Wisconsin, HospiceCare, Oxfam America and the UW-Madison Arboretum. She was a regular donor to Overture Center.
Winston gave to endowments. She gave one-time and sustaining gifts. She knew when to transfer stocks. She created fellowships.
And yet, outside of Madison's nonprofit development directors, almost nobody knew her name.
"None of the people she made things accessible for knew who she was," said Stephen Fleischman, director at the Madison Museum of Contemporary Art. "She didn't care about the physical world, objects and trappings, about collecting things. Those weren't her interests.
"Her interests were art and intellect."
"She was incredibly generous and smart and discreet," said Bob Sorge, director of the Madison Community Foundation. "This was one person I think we'd all like to emulate in our personal generosity.
"She did so much for our community … much of which nobody will ever really know."
For years, Winston was "a wonderful supporter" of the Henry Vilas Zoo, because "she was a lifetime lover of penguins," according to development manager Shelly Torkelson.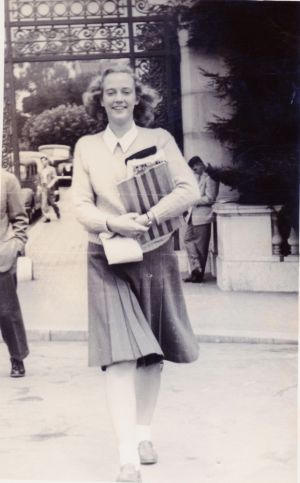 Margaret C. Winston, shown here in the 1940s as an undergraduate at Stanford University, was a major, anonymous donor to several arts nonprofits in Madison. Madison Opera recently named its new Opera Center after her.
"She had a very long-standing relationship with the museum," said Clint Walz, director of development for the Madison Children's Museum. "She was an extremely large donor to our capital campaign."
Upon her death, Winston had been giving to the University of Wisconsin Foundation for more than three decades. She directed funds to, in part, the Wisconsin Union, the Helen Louise Allen Textile Collection in the School of Human Ecology, the Medical Genetics Department and Medicine and Public Health.
A devoted opera lover, Winston gave directly to UW Opera and the School of Music's new Performance Center. In 2003, through the UW School of Music, Winston funded a fellowship for a graduate student in voice.
Recipients have included James Kryshak, a tenor now singing with the Vienna State Opera, soprano Shannon Prickett, about to make her role debut in as Micaela in "Carmen," and tenor J. Adam Shelton, a local arts educator who recently appeared in Madison Opera's "Dead Man Walking."
"Margaret wanted to be anonymous," said UW-Madison voice professor Mimmi Fullmer. "But if I would ask her, 'Do you want students to come see you?' she'd say, 'That would be OK.'
By all accounts, Winston was a deeply private person. She didn't like having her picture taken, and she was cautious about where she gave her money. She was choosy in her friendships, too.
"One mistake people made with Margaret was to look at her and see an elderly lady in a wheelchair doing her needlepoint," said Beth Tolles, Madison Opera's director of development. "They wouldn't take her seriously."
When staff at the assisted-living home where she lived asked in a condescending tone, "What do you need, sweetheart?," Tolles would sometimes respond on Winston's behalf: "That's Dr. Sweetheart, OK?"
"It never bothered her," Tolles said. "But it bothered me."
A 2012 study by the Women's Philanthropy Institute at Indiana University showed that women age 50 and older gave, on average, $256 to every $100 given by a man of similar age and income level.
Yet women are far less likely to want to be recognized for their gifts.
"For women of that age, you didn't talk about money, it wasn't ladylike," said Martha Taylor, vice president of the UW Foundation and head of the Women's Philanthropy Council.
"You know how Virginia Woolf said, 'anonymous was a woman?' Anonymous is a woman philanthropist, that's what we say."
For major female donors, especially older ones, keeping their names off plaques and banners can be an issue of safety. They don't want to become targets.
Winston was protective of her friendships, too.
"She was a brilliant woman, absolutely brilliant. But she was very humble," Taylor said.
"A lot of women, more that men, are sensitive to personal relationships. They don't want people to go out of their way to talk to them just because they have money."
Winston wanted to be more than just a checkbook, many said. She volunteered for Wisconsin Public Television's annual auction and sewed costumes for the opera.
"She wanted to be treated as someone who worked in the costume shop," Taylor said, "who was just like anybody else, who came in and loved opera.
"She didn't want to be differentiated."
According to Smith, Winston's gifts made possible the purchase of Madison Opera's current building.
"We said to her, wouldn't you like to name the building after you?" Smith said. "And she said no, but she also said, 'What you do after I'm gone, I can't do anything about,' kind of with a wink.
"We took that to be permission, to finally have something that acknowledges who she was and how important she was."
"Margaret was a person who was ahead of her time in so many ways," Fleischman at MMoCA said. "She was a person who loved crossing disciplines, before it was really viewed as the thing to do.
"She was not a person who was in it for name recognition, that was the furthest thing from her desires. She was in it for the beautiful civic and cultural reasons. She wanted to make sure what was important in her life, cultural opportunities, would be given to other people and in her community."
Read more: http://host.madison.com/news/local/city-life/with-renaming-of-opera-center-extraordinary-donor-margaret-c-winston/article_62c70903-0f81-52a8-8b28-6ded68b977de.html#ixzz3IgmnsPS3