Human Rights Campaign to celebrate Madison's transgender and non-binary youth with 'I Am Jazz' reading
The Capital Times

BY AMBER C. WALKER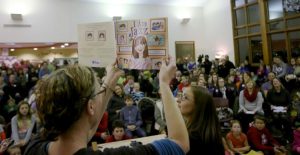 Michele Hatchell, left, a Madison art teacher, holds up the book "I Am Jazz" as co-author Jessica Herthel reads at the Mount Horeb Public Library in 2015. The reading drew a crowd of 600 after the Mount Horeb School District canceled a reading of the book, about a transgender girl, at an elementary school the previous week.
Mount Horeb,Wisconsin, proves that no town is too small to have a big influence.
After the Dane County village, about 30 minutes outside of Madison, made national headlines for supporting a local transgender student, the Human Rights Campaign honors their actions each year by sponsoring events throughout the country recognizing trans and non-binary youth.
In 2015, the Mount Horeb Primary Center planned to read "I Am Jazz," a children's book about a transgender child, after one of their students identified as transgender.
Some parents contacted the Liberty Counsel, an anti-LGBT organization classified as a hate group by the Southern Poverty Law Center. The school cancelled its lessons after the Liberty Counsel threatened to sue the Mount Horeb Area School District.
Following the cancellation, Mount Horeb parent Amy Lyle organized a public reading of the book. The story made national headlines and Lyle's reading attracted 600 supporters, including co-author of "I Am Jazz," Jessica Herthel.
On Thursday, Dec. 7, the Human Rights Campaign will host its second annual national day of readings for "I Am Jazz." In a recent press release, HRC said they were "inspired" by the residents of Mount Horeb who "unequivocally supported a young transgender student and her family and rebuked bigotry and censorship."
The Madison Children's Museum will host a reading of "I am Jazz" on Thursday at 6 p.m. Sarah McBride, HRC's national press secretary, will read the book for attendees. McBride made history in 2016 as the first transgender person to address a major party convention after she spoke at the Democratic National Convention.
In an interview with the Cap Times, McBride said that the actions of the Mount Horeb community led to hundreds of readings of "I Am Jazz" across the country.
"The event in Madison is really the centerpiece," McBride said. "To come back to where it all started, in the Madison area, and show support for transgender youth in Madison, in Wisconsin, and across the country is really powerful."
HRC is also partnering with GSAFE, the Madison Metropolitan School District, the Madison Public Library, Fair Wisconsin and A Room of One's Own bookstore to host Thursday's event.
MMSD's superintendent Jennifer Cheatham will also speak to attendees. Cheatham said the event is an opportunity to "support and celebrate" the district's transgender and non-binary faculty, staff and students.
"We take seriously our responsibility to provide safe, inclusive and positive environments for students of all gender identities," Cheatham said.
This event coincides with MMSD's efforts to expand Welcoming Schools, an HRC program dedicated to creating elementary school environments that are inclusive and supportive for LGBTQ+ students.
In August, MMSD invested over $40,000 to train 19 staff members as Welcoming Schools facilitators. Currently, 16 MMSD elementary schools participate in the program, which provides educators with a framework to talk to students about bullying, bias and being good allies.
"We've made this investment because we know that being part of this program both supports our students and makes our school communities stronger," Cheatham said. "Welcoming Schools gives us the tools to create a more equitable and culturally responsive educational experience for all of our students and families."
The book, "I Am Jazz," is based on the early life of Jazz Jennings, a south Florida girl who began her transition at age 5. Jennings' life is also the subject of a television series, also called "I Am Jazz," which starts its fourth season in January.