Make Music Madison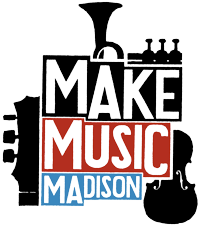 Wednesday, June 21
@
9:00 am
–
2:30 pm
Madison Children's Museum hosts a stage for the city's annual Make Music Madison event! Enjoy family friendly live music at Rotary Plaza Stage, just outside the museum's front entrance. In the event of rain, performances will take place in the Museum's Community Concourse.
Rotary Plaza Stage (outdoors)
9-9:45 am, Okami Taiko
10-10:30 am, Madison Children's Museum staff band
11-11:45 am, Vacant Church
12-12:45 pm, Mass Appeal: Harmonica workshop and concert with DeWayne "Harmonica Man" Keyes
1-2 pm, Elsa Zank, harp
2-2:30 pm, Mass Appeal: Hambone Workshop with Nedra Bobo-Boyles
MCM Community Concourse (indoor lobby)
10 am-noon and 1-3 pm, Makey Makey workshop with 17.2m (aka Scott Fradkin). Turn everyday objects into experimental synthesizers!
Make Music Madison joins the global Make Music day, with 1000+ Madison musicians performing 400 shows at 100 venues! Find a complete schedule at the Make Music Madison website.
Related Events