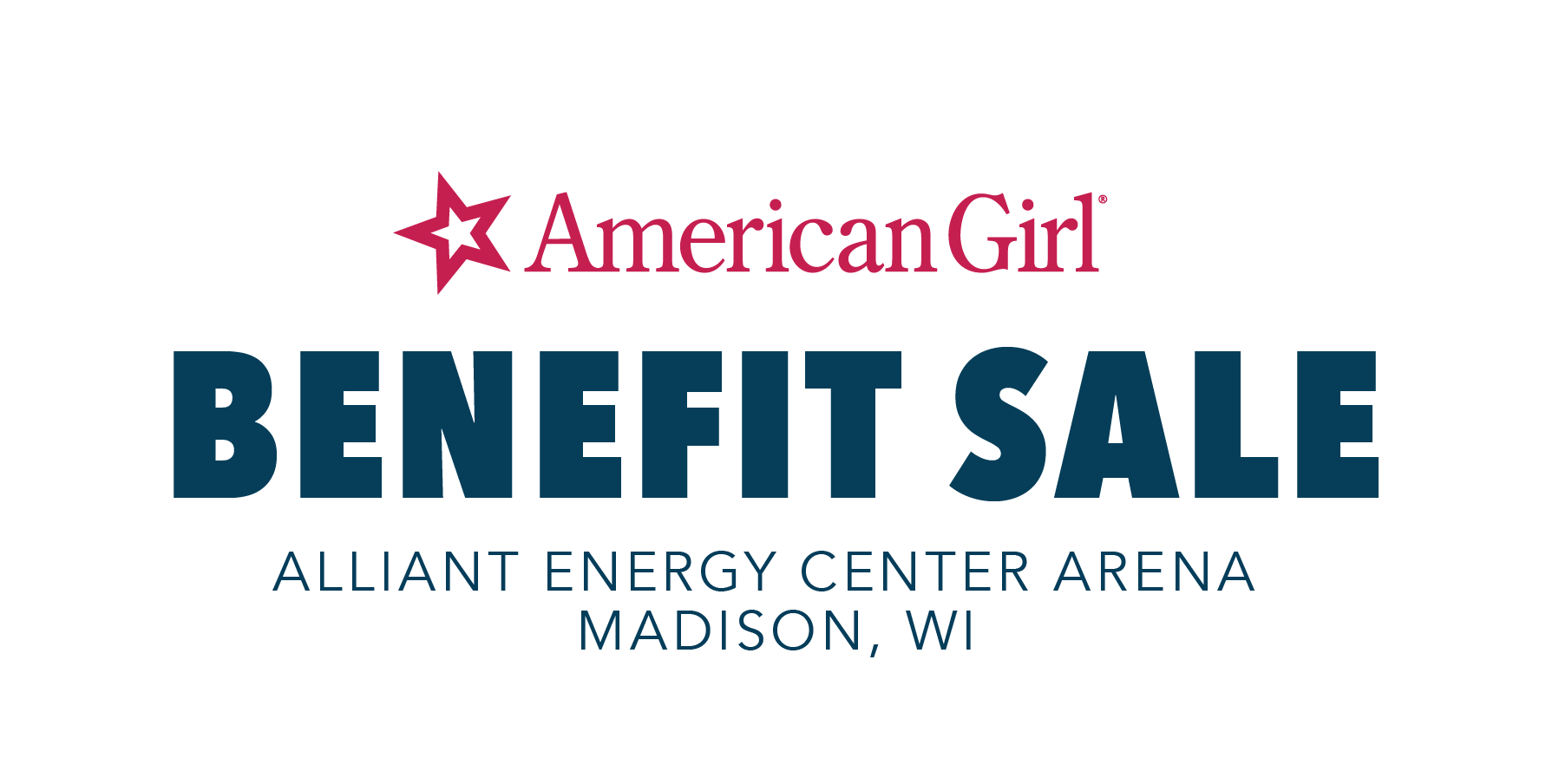 The American Girl Benefit Sale, run by Madison Children's Museum, offers great deals on authentic American Girl dolls, accessories, and books — all for a good cause!
2020 Benefit Sale:
Saturday, July 11 and Sunday, July 12
Alliant Energy Center, Arena, in Madison, Wisconsin
---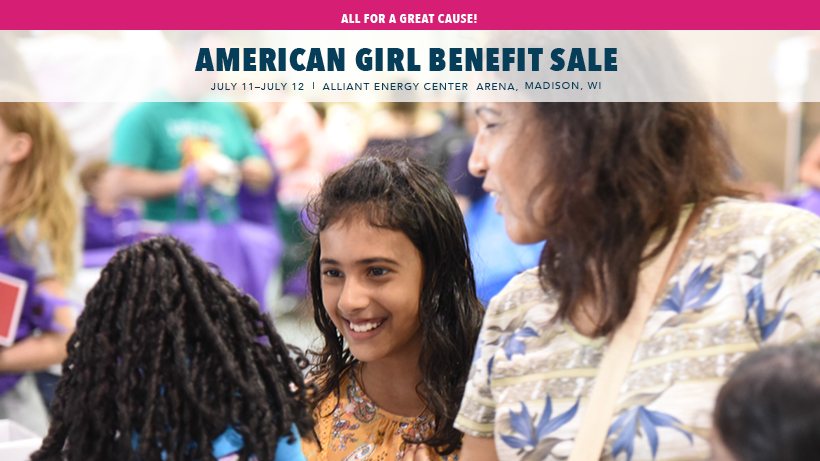 Join Our Email List
Follow Us On Facebook
All benefit sale inventory is generously donated by American Girl and Mattel, and all proceeds support the work of Madison Children's Museum and American Girl's Fund for Children, which supports charitable programs for children in the Madison area. The sale is not run by American Girl or Mattel.
---
News for the 2020 Sale:
About the Benefit Sale and COVID-19
We are paying close attention to the situation with the novel coronavirus.
As we all know, the situation with COVID-19 is changing day-to-day. No one is able to say with any certainty when life will be able to return to normal. Our intention is to have the American Girl Benefit Sale go forward as scheduled, but if that becomes impossible we're looking at contingency plans. Some of the possible contingency scenarios would work better with a smaller crowd, so at this time we're making the decision to delay offering General Ticket sales. 
This will not affect those who already purchased tickets during the Ticket Lottery Presale. 
In the coming months, once it becomes clear what form the sale will be able to take, we will reassess if and when we can offer General Sale tickets to the public. 
Similarly, we must postpone sales of tickets for the Dolls and Friends PJ Parties and for T-shirt Sales. 
If the situation improves and we are able to sell tickets for the General Ticket Sale, PJ Parties, and/or t-shirts we will notify you via our email list and our Facebook page. 
Right now, we're planning for the benefit sale itself to go ahead as scheduled for current ticketholders. In the event that we do cancel any benefit sale event, we will offer a refund for tickets purchased.
The only other aspect of the sale currently affected by the pandemic is the staff time available to respond to customer service questions. Emails to benefitsale@madisonchildrensmuseum.org will receive the quickest response. Facebook Messenger will be slower, and phone messages will be slowest, due to our reduced staff. Thank you for your understanding and patience.
Changes for 2020
This year the American Girl Benefit Sale will be held in the coliseum of the Alliant Energy Center in Madison, Wisconsin. The new venue (which necessitates the new date) offers many advantages:
Holding more of the sale indoors—this includes food, queuing station, and most of the merchandise and checkout stations

Free, onsite parking

Indoor plumbing

Better temperature control—not air-conditioned, but cooled by large industrial fans at top of the building

More room and places to sit

More of your purchase dollars benefiting Madison Children's Museum and American Girl's Fund for Children
Please note that because the sale is earlier in July, ticket on-sale dates are also a little earlier than in previous years. Mark your calendars and be sure to stay subscribed to our email updates—and watch Facebook—so you don't miss the start of ticket sales. If you aren't subscribed, sign up for benefit sale emails now.
There are a few other changes necessitated by the change of venue, such as how we are selling and distributing tickets for the Sunday sale.
For those who are curious, here's background on why we changed the location and date of the sale. 
---
Get More Information About the Sale:
---
How to shop
Saturday Sale, July 11
The Saturday Sale offers discounts on genuine American Girl dolls (including 18″ dolls, WellieWishers, Bitty Babies, and mini dolls), accessories, and books. All inventory is donated by American Girl, from overstock or returns that have been reconditioned to like-new status. Discounts range 30–70% off retail prices.
Markdown Sale, Sunday, July 12:
The Sunday Markdown Sale offers deeper discounts and higher per-person limits on merchandise that did not sell on Saturday. Discounts and limits are set based on inventory on Saturday night, and not every item is discounted further. Most items will be discounted an additional 10-50%.
Q: When should I shop?
A: It depends on what you are shopping for. If you are looking for a particular doll or item you should shop Saturday. No products are restocked overnight, so the selection on Sunday is what does not sell on Saturday. If you are looking for any doll, want to buy large numbers of the same item, or want the deepest possible discounts you should shop Sunday. Some people shop both days.
---
Still looking for more info?
We are short-staffed due to the pandemic, so we deeply appreciate your kind patience and understanding. Thank you.
Questions
If you have any questions that can't be answered with the information on this site, please contact us via email. Also, there is a wonderful community of veteran sale-goers and sale volunteers on our Facebook page. They are generally very generous with their time and willing to give advice. We highly recommend liking the page and joining that community.
For ticketing support questions
If you have questions or concerns, contact us as soon as possible. All help requests are time-stamped. We will respond to your question as soon as possible. Regardless of your method, be sure to provide your full name, phone number, email address, order number (if applicable), and a description of your issue.
Please contact us via the methods below:
Email benefitsale@madisonchildrensmuseum.org (fastest response)
Send a direct message to the American Girl Benefit Sale Facebook page (posts to our wall or comments on posts might not be seen)

Leave a voicemail in our benefit sale mailbox at (608) 256-6445 ext. 777 (please only call if you do not have access to email or Facebook Messenger)
Want to Volunteer?
Please join us and volunteer for the 2020 sale. The sale would not be possible without the work of many dedicated volunteers who work year-round to prepare and run the sale. If you would like to learn more about volunteer opportunities, contact us via email.
Get the Latest News
Get information and updates on merchandise and more by subscribing to our email list or follow us on Facebook.
Media
For media inquiries, email the Madison Children's Museum's communications team.