The American Girl Benefit Sale, run by Madison Children's Museum, offers great deals on authentic American Girl dolls, accessories, and books — all for a good cause!
2020 Benefit Sale:
Saturday, July 11 and Sunday, July 12

---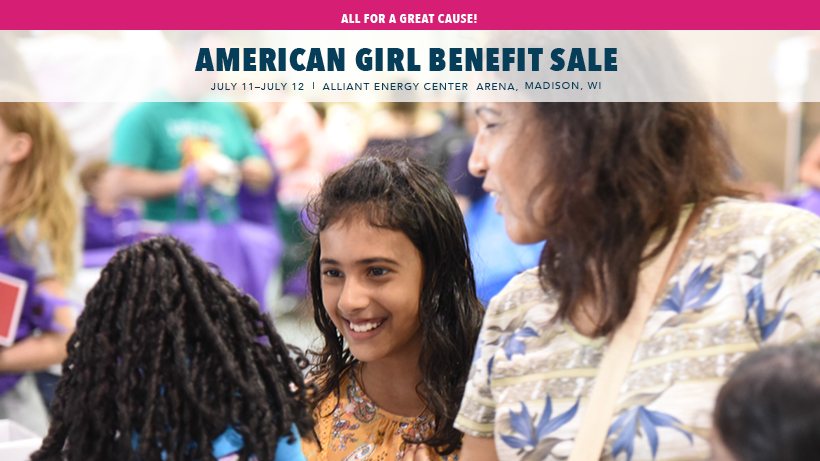 Join Our Email List
Follow Us On Facebook
All benefit sale inventory is generously donated by American Girl and Mattel, and all proceeds support the work of Madison Children's Museum and American Girl's Fund for Children, which supports charitable programs for children in the Madison area. The sale is not run by American Girl or Mattel.
---
News for the 2020 Sale:
About the Benefit Sale and COVID-19
2020 Benefit Sale Update & Survey
Help Us Reconfigure the Benefit Sale
The American Girl Benefit Sale (AGBS) is a beloved tradition that gives you access to discounted American Girl merchandise while providing critical funding to our two charitable beneficiaries: Madison Children's Museum and American Girl's Fund for Children.
If we are to hold AGBS in this year of COVID-19, we must reimagine it, as it will not be possible to hold a face-to-face sale this summer. Our friends at American Girl have generously offered to let us sell items online for this year only. But before we take on the expense and logistical problem-solving required to move the sale online, we need to understand how many people would participate in an online sale and what options would work best for our benefit sale community.
Please carefully complete the survey, linked below. The survey should take 6-7 minutes. Please read all the text carefully, as it spells out the logistics for a new sale model.
It is critical that we get as complete a picture as possible of your needs for this year's sale. As a bit of encouragement, everyone who fully completes the survey by Sunday, May 24 will be entered in a drawing to receive two 7 a.m. tickets to next year's 2021 American Girl Benefit Sale.  Only one survey entry per shopper, please.
Thank you for taking the time to complete this survey. As you might imagine, we face difficult decisions, and your input is VERY helpful. We look forward to hosting a unique, wonderful American Girl Benefit Sale this year, and to resuming in-person operations in future years.
The only other aspect of the sale currently affected by the pandemic is the staff time available to respond to customer service questions. Emails to benefitsale@madisonchildrensmuseum.org will receive the quickest response. Facebook Messenger will be slower, and phone messages will be slowest, due to our reduced staff. Thank you for your understanding and patience.
---
Get More Information About the Sale:
---
Still looking for more info?
We are short-staffed due to the pandemic, so we deeply appreciate your kind patience and understanding. Thank you.
Questions
If you have any questions that can't be answered with the information on this site, please contact us via email. Also, there is a wonderful community of veteran sale-goers and sale volunteers on our Facebook page. They are generally very generous with their time and willing to give advice. We highly recommend liking the page and joining that community.
For ticketing support questions
If you have questions or concerns, contact us as soon as possible. All help requests are time-stamped. We will respond to your question as soon as possible. Regardless of your method, be sure to provide your full name, phone number, email address, order number (if applicable), and a description of your issue.
Please contact us via the methods below:
Email benefitsale@madisonchildrensmuseum.org (fastest response)
Send a direct message to the American Girl Benefit Sale Facebook page (posts to our wall or comments on posts might not be seen)

Leave a voicemail in our benefit sale mailbox at (608) 256-6445 ext. 777 (please only call if you do not have access to email or Facebook Messenger)
Want to Volunteer?
Please join us and volunteer for the 2020 sale. The sale would not be possible without the work of many dedicated volunteers who work year-round to prepare and run the sale. If you would like to learn more about volunteer opportunities, contact us via email.
Get the Latest News
Get information and updates on merchandise and more by subscribing to our email list or follow us on Facebook.
Media
For media inquiries, email the Madison Children's Museum's communications team.