Wonder Makers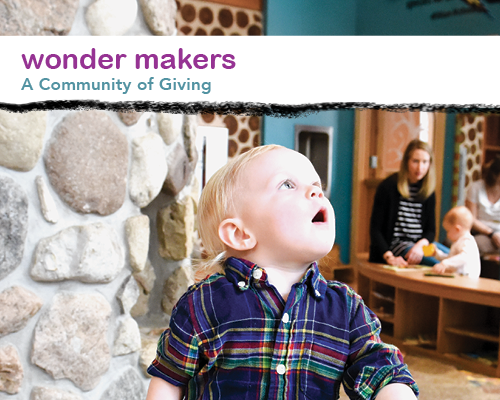 Thank you for being a Wonder Maker!
You help make developmentally critical play available to all children. Thank you for joining this special society of museum supporters who know that play is fun and fundamental for children's growth and enjoyment of life.
Wonder Maker Benefits:
Museum Membership
Wonder Makers will automatically receive a museum membership*. Basic benefits of the Wonder Maker membership mirror the benefits available to at the Family Plus level. Each Wonder Maker level corresponds with the following membership type: $350 includes a 6-person membership; $500 includes an 8-person membership; $1,000 or more includes a 10-person membership. Contact us if you wish to decline your Wonder Maker Membership.
*Wonder Maker level donors who make their gift through a donor advised fund or individual retirement account may be ineligible to receive the membership benefit. Contact your financial adviser for more information.
Additional Wonder-ous Benefits
In addition to a museum membership, Wonder Makers can receive other exclusive benefits in appreciation for their support including special communications, invitations to special events, complimentary Adult Swim passes, recognition opportunities and more!