Wonder Makers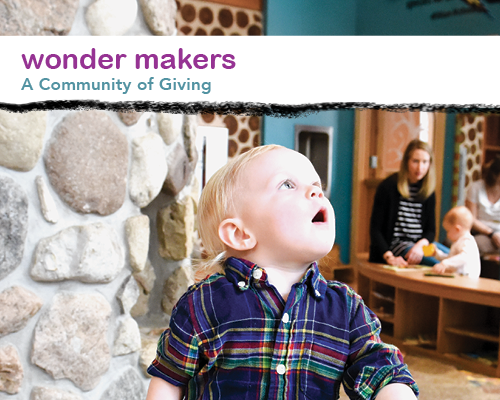 Thank you for being a Wonder Maker!
You help make developmentally critical play available to all children. Thank you for joining this special society of museum supporters who know that play is fun and fundamental for children's growth and enjoyment of life.
Wonder Maker Benefits:
Wonder-ful Events
Wonder Makers receive exclusive access to a series of events on the museum's Rooftop Ramble, which offers amazing views of the Capitol Square and Lake Mendota.
Up with the Chickens! Enjoy coffee and light pastries as you explore our rooftop garden before the museum opens to the public.
Cocktails Before Concerts on the Square Come up to our rooftop to enjoy pre-concert cocktails and hors d'oeuvres before heading down to listen to the Wisconsin Chamber Orchestra.
View from the Top Experience one of the best sunset views in Madison at this gathering of the museum's most generous supporters. Sample produce from the museum's rooftop garden, sip on signature cocktails, and celebrate the power of play.
Wonder Makers will also be invited to new exhibit opening celebrations.
Wonder-ous Benefits
Optional Museum Membership
In addition, an optional museum membership is available to Wonder Makers. Each Wonder Maker level corresponds with the following membership type: $250 is offered a 6-person membership; $500 is offered an 8-person membership; $1,000 is offered a 10-person membership.  Contact us if you wish to use your Wonder Maker Membership.