2020 Winter Break Craft Kits
Delight (and occupy for hours!) the young crafter in your life during winter break with a craft kit containing THREE different projects, available for a limited time.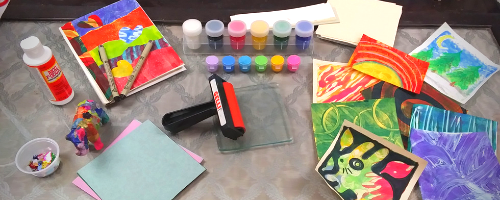 Every kit will contain three different craft projects designed by the education experts at Madison Children's Museum, with the post-holiday downtime of winter break in mind.
The Projects:
Gelli Printing Set: Make beautiful layered monoprints on paper using various household objects. These amazing prints can stand alone, or be used for many other projects, including those in this kit. Detailed video instruction by Laurie, MCM's art studio manager, teaches the printing techniques step by step, and shows examples of how to use the prints as raw material for drawings, collages, etc. This printing set opens the door to innumerable other creative projects.
Provided in the kit: Reusable 5 x 5 Gelli arts printmaking plate, brayer, acrylic paints, craft sticks, selection of papers.

Art Journal: Use your Gelli prints to decorate the cover, then use the list of drawing prompts (or your own creativity!) to spend endless hours filling the journal with drawings.  2 professional-quality drawing pens are included.  Or fill the book with poems, or a screenplay. Or use it as a scrapbook to mount and display your favorite plain or enhanced Gelli print art.
Provided in the kit: 6 x 8 hardcover blank book journal, 2 artist-quality drawing pens, list of drawing prompts, handmade paper bookmarks to print.

Animal Decoupage: Learn the art of decoupage ("cut-out art") by starting with a plain papier-mache animal figure, and create a unique, fabulously decorated sculpture. Colored tissue papers are included, or you can use your own amazing printed papers that you've generated with your Gelli printing set.
Provided in the kit: 3-D papier-mache animal, Mod Podge (4 oz bottle), paintbrush, colored tissue paper, sequins.
---
These kits are recommended for ages 8 and up. Younger children may participate, but will need a greater degree of adult assistance.
---
Instructional YouTube videos created by our staff will be provided for all three projects.
Each kit costs $50, and contains all three projects. (Sorry, the projects are not sold separately.)