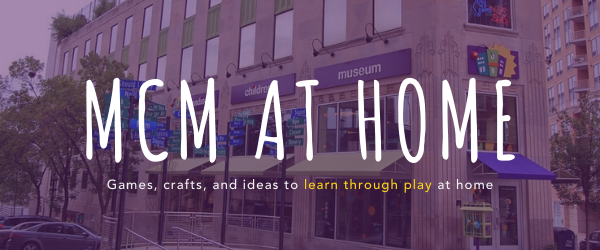 We miss seeing your family at Madison Children's Museum! Families are juggling a lot these days: working from home, income loss, childcare needs, and anxiety about the pandemic. On top of this, we're all concerned with how all of this will impact our children.
Madison Children's Museum remains dedicated to our mission of connecting children with their families, their communities, and the world beyond through discovery learning and creative play. In this spirit, our education and communications team are developing free, online resources through our social media channels to support both you as caregivers and your children. 
Focusing on young children:
While there are many online learning tools for school-aged children, much less is available for babies, toddlers, and preschoolers. Yet these are ages when it's most critical to offer brain-stimulating play and when the demands on caregivers are greatest. To support families of young children, MCM at Home will focus on activities and videos that particularly appeal to older babies through preschool-age children—although older siblings may find themselves sucked in as well!
---
Online Resources and Community
Madison Children's Museum Members & Families Facebook Group
One of the hardest parts of social distancing is the loss of community. Families with young children are particularly prone to feeling isolated at the best of times, and now that playdates, playgroups, and other get-togethers are gone it can get really lonely for both adults and kids. With this in mind, we're launching a new Facebook Group, Madison Children's Museum Members & Families. Join this group to connect with other families who value creative play, and get first access to all of our new MCM at Home materials.
This group is created for, but not limited to, museum members. Other families and friends can benefit from this community too—please share and invite them.
Explore Your Neighborhood with Scavenger Hunt Bingo Games
Download a Scavenger Hunt and get out to explore your neighborhood!
Weekly Online Programs with our Education Team
While the museum is closed, we're continuing four of our most popular in-museum programs online through videos on Facebook and YouTube and articles on our blog. New content will be posted weekly; join our Facebook group for first access or watch for links on our other platforms later in the day.
Visit our MCM Blog and view our archive of things to do at home.
---
How to Support MCM
Madison Children's Museum is a privately funded nonprofit organization. The museum does not receive direct funding from the City of Madison or the State of Wisconsin; rather, we rely on both the generosity of our community and revenue from daily visitors to operate. Your generosity is deeply appreciated, and we will "play it forward" to the children of Madison and Dane County.
Share our content on social media
Sharing our MCM at home videos and links is a great way to not only support other parents and caregivers with free resources they can use, it helps build our community of museum supporters. We know that finances are difficult for many families in our community. If you want to support the museum but don't have financial means to do so, please like and share our content on Facebook, Instagram, and YouTube.
Purchase tickets to the museum for your family and friends
When you buy tickets online you can use them any day that the museum is open and they never expire. As a bonus for visitors making an investment in the museum by buying while we're closed when the museum opens we will mail you one guest pass for every order of two or more tickets you place during the closure. You can use these passes for extra visits for your family, or give them to friends.
Buy Museum Tickets
Become a Museum Member
Members support the work of Madison Children's Museum and get free admission for the full year, as well as a wealth of other benefits depending on membership level, including free or 50% admission to hundreds of other museums. Madison Children's Museum will extend all new and current memberships by one month for each month that the museum is closed.
Become a Member
Donate to the museum
Your gift to the museum will ensure that we make it through the difficult days ahead. More importantly, your gift will help us continue to provide a healthy abundance of joy and wonder to children and families when they need it most.
Give a Gift Today