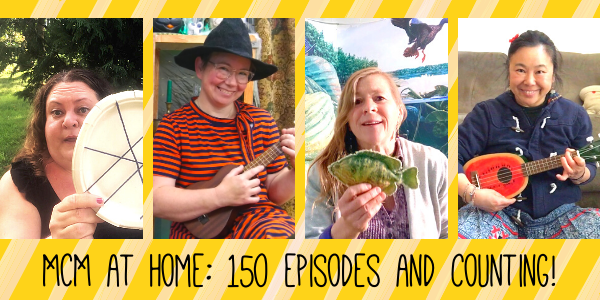 Update: March 2021
We're changing our MCM at Home schedule to one new episode per week to allow staff more time to prepare to safely welcome you back when the museum reopens this summer.
You can still access ALL of our prior MCM at Home programs online via the MCM at Home playlists on Facebook or YouTube and on our blog, and we may add in "bonus" content as we're able. Many thanks to all of our members and fans for your enthusiastic support of MCM at Home.
---
While the museum building is closed, Madison Children's Museum remains dedicated to our mission of connecting children with their families, their communities, and the world beyond through discovery learning and creative play. In this spirit, our education and communications team are developing free, online resources through our social media channels to support both you as caregivers and your children. 
Online Programs with our Education Team
We're continuing four of our most popular in-museum programs online through videos on Facebook and YouTube and articles on our blog.
Brain Builders with Heather videos or blog posts featuring activities designed for the developmental needs of pre-schoolers
Music with Junebug videos featuring interactive songs, activities, dances, and Japanese language storybook readings for babies, pre-schoolers, and early elementary school children
Mess Monsters with Laurie videos featuring art projects that inspire creativity while building critical developmental skills of pre-school and elementary school-aged children
Exploration Stations with Cheryl videos featuring science, nature, and STEM learning activities for pre-school and elementary school-aged children
Watch MCM at Home on YouTube or Facebook video
Visit our MCM Blog and view our archive of things to do at home.
---
Explore Your Neighborhood with Scavenger Hunt Bingo Games
Download a Scavenger Hunt and get out to explore your neighborhood!
---
How to Support MCM
Madison Children's Museum is a privately funded nonprofit organization. The museum does not receive direct funding from the City of Madison or the State of Wisconsin; rather, we rely on both the generosity of our community and revenue from daily visitors to operate. Your generosity is deeply appreciated, and we will "play it forward" to the children of Madison and Dane County.
Share our content on social media
Sharing our MCM at home videos and links is a great way to not only support other parents and caregivers with free resources they can use, it helps build our community of museum supporters. We know that finances are difficult for many families in our community. If you want to support the museum but don't have the financial means to do so, please like and share our content on Facebook, Instagram, and YouTube.
Become a Museum Member
Members support the work of Madison Children's Museum and get free admission for the full year, as well as a wealth of other benefits depending on membership level, including free or 50% admission to hundreds of other museums. Madison Children's Museum will extend all new and current memberships by one month for each month that the museum is closed.
Become a Member
Donate to the museum
Your gift to the museum will ensure that we make it through the difficult days ahead. More importantly, your gift will help us continue to provide a healthy abundance of joy and wonder to children and families when they need it most.
Give a Gift Today