At-Home Projects for Members
We miss our members, but we're excited to share with some special projects and opportunities just for our members while the museum is closed. These projects are designed by our joint membership and education team to help your family stay active and engaged during the quarantine.
---
Member Project: Grow Your Garden from Seed
While Madison Children's Museum is sleeping, the rooftop garden is still growing. As you can't visit our garden, we want to help you enhance your own home environment with sprouting beans and native wildflowers!
In the videos below, Cheryl, our environmental education manager, will show how you can grow your own garden, either on your windowsill or outside your door. Kids of any age can participate in this project. Pick which method would work better for the dexterity and interests of your child. If you have kids of different ages/abilities you may request seeds for both projects.
Fill out the request form via the button below and we will send you your very own seeds for this project, for free.
Your seeds will be mailed to you within one week via USPS.
Method 1: Beans in Recycled Containers
Suggested for babies and toddlers
Plant a bean seed in a recycled container and watch it grow on your windowsill.
Just like you, beans grow fast, so water it every day and watch to see it grow. You are a gardener now! Do you see it pushing up through the soil? How many days until it sprouts? How tall did it grow in the first day?
Method 2: Native Flower Seed Balls
Suggested for kids pre-school age and up
Get messy and make your own native flower seed ball to grow flowers that will benefit pollinators.
Native Flower Seed Balls Recipe
2 parts potting soil

4 parts clay (dry or wet)
1–2 parts water
1 part seeds
Mix the soil, clay, and water together in a bowl or tub. Knead thoroughly until there are no lumps. Add seeds. Roll the mixture into marble or superball sized balls. Let dry for 24-48 hours before you sow or store. Store them in cardboard or paper bags until use. Do not use plastic. Disperse the balls in vacant city lots, along railroad tracks, or in gardens. That is how guerilla gardening started. 
Did you know that bees, wasps, hummingbirds, butterflies, moths, beetles, flies, and even bats can pollinate? What pollinators do you see around your home?
Let's start a virtual garden, post your seed photos to your social media pages and tag us with #MadisonChildrensMuseum and #MCMatHome, or join our MCM Members & Friends Facebook Page and post your pictures there.
---



Paper Quilt Project
While we're away, the museum is taking a little nap. We can keep it snug and warm by working together to create a paper quilt with YOUR art! Collaborative art projects have always been a special part of MCM and can make us feel like we're not so far apart after all.
Follow the instructions below to create a paper quilt square and send it back to the museum. We'll put all the members' quilt squares together to create a HUGE paper quilt to wrap the museum. When its time to wake up the museum, you can visit and see your paper quilt. (In the meantime, we'll post updates on our social media accounts so you can watch the quilt grow.)
Project Steps:
Take a piece of paper and have your adult make it into a square shape, any size square is great. 

Get your art supplies! Add color, glitter, string, add any old thing to make your quilt square your own.

Put your name on the back.

Have your adult 

mail your quilt square to the address below OR drop off your square at the museum. (We will place a collection box inside our Little Free Library near the front entrance, be sure to wash your hands after touching the door.) Please put your square in an envelope to keep it safe—and it's ok to fold.

Madison Children's Museum
100 N. Hamilton St.
Madison, WI  53703
Stay tuned on our social media pages to see all the squares as they come in and build a huge, warm, snuggly quilt for our museum. 
Project Update:
The quilt squares have started arriving. Please keep them coming so we can grow our quilt.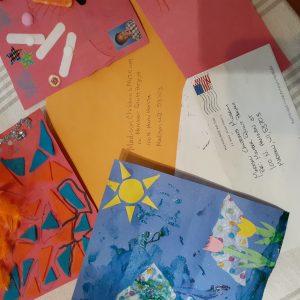 ---