At-Home Projects for Members
We miss our members, but we're excited to share with some special projects and opportunities just for our members while the museum is closed. These projects are designed by our joint membership and education team to help your family stay active and engaged during the quarantine.
Member Project: Flower Press
Pressing flowers is an easy project to do at home with children. It gets you outdoors for a walk in your neighborhood or yard and gets children looking at the details of flowers and leaves. Pressing flowers takes 4 to 6 weeks, so you can plan for another art project with your children when your leaves and flowers are all dry. Remember to get permission from neighbors if you would like to cut flowers. Don't cut every flower, just one or 2 of each so we leave enough for the pollinators in our area. You can collect flowers and leaves every season, think about those beautiful fall maple leaves.
Supplies you will need for this project:
Scissors
Basket/bag to your collection of flowers and leaves into.
A heavy book such as a cookbook or textbook. Choose one that you don't mind getting used for a month.
Parchment paper, coffee filters, or construction paper.
LARGE rock or heavy books or dishes as weights.
Process:
Take a nature walk with your family or caregiver in your neighborhood or around your front door, wherever there are greens and flowers.
Using your scissors cut a few flowers and leaves that you like and put them into your basket. While you are looking closely at the flower, notice if there are any insects that are close by. What kind of area is this growing in, the shade or the sun? Do you know the name of this flower or leaf?
Taking your collection home, and make your own flower press using a large book, and your parchment or coffee filter paper.
Place the flowers and leaves face down onto your paper in between the pages of the book. place another paper on top of the flowers. Protecting the pages of the book.
Get something heavy to place on top of the closed book. You can use a rock, more books or some heavy dishes. Put this in a safe place for a few weeks.
Your pressed flowers will have changed over the 4-6 weeks, notice how the color changed. You can use these flowers to make art with, celebrating the flowers of the summer. Make a card for a friend, or you can spell your name with the dried flowers and leaves. Have fun!
MCM Members' Giveaway: Flower Press
Enter to win a flower press, donated by the Wisconsin Craft Market. (3 total) for curbside pick up at the Museum!
$16.00 retail value
Enter one-time per family
Enter September 1–7.
Our staff will contact you via the contact information you provide below to arrange for pickup.
---
Member Project: DIY Birthday Hat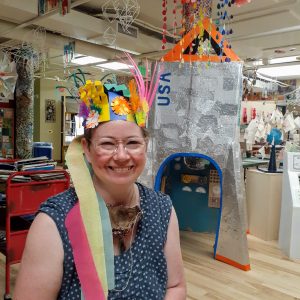 Laurie, Madison Children's Museum art studio manager, put together this special at-home project to teach us how to make a special birthday hat for the museum's 40th birthday party. (This is a great project for your un-birthday too!)
Here are the steps to do this project at home:
Materials needed: 
Long strips of colored cardstock paper or poster board, scissors, stapler, scrap papers such as construction paper or recycled paper. Optional: decorating materials such as feathers, stickers, colored tape, crepe paper, markers, or other craft supplies
Steps:
Strips of heavy paper should be cut 2-3 inches wide. First, we'll make the base of your hat. Choose one to make a band that fits around your head- adjust to fit and staple it. (Younger children will need help with these first two steps)
Now choose strips of paper to make the top of your hat. Fit a strip of paper across the top of your head from ear to ear and staple it in place onto the headband. Add a second strip front to back and staple it in place. It should look like an "X". Staple in the middle of the X to make it secure
Your hat is now ready to decorate! What else can you add? You can staple on additional strips of paper to make it taller or wider and as crazy as you want. Use colored paper, markers, and craft materials to add details.  (Developmental note for parents/caregivers: This is a good chance for your child to practice their small motor skills to fold, curl, and cut more paper for frills and loops.) Layer pieces with different textures, add color with markers and let your imagination go. This is your birthday crown!
Now that you've got the process down, make more!!! Can you make one for everyone in your home? Can you make one for your favorite stuffy? Play your favorite music and have a parade!
---
Member Project: Grow Your Garden from Seed
While Madison Children's Museum is sleeping, the rooftop garden is still growing. As you can't visit our garden, we want to help you enhance your own home environment with sprouting beans and native wildflowers!
In the videos below, Cheryl, our environmental education manager, will show how you can grow your own garden, either on your windowsill or outside your door. Kids of any age can participate in this project. Pick which method would work better for the dexterity and interests of your child. If you have kids of different ages/abilities you may request seeds for both projects.
(Seed distribution is now concluded for this project, but you can get seeds at your local garden center to do this project at home!)
Method 1: Beans in Recycled Containers
Suggested for babies and toddlers
Plant a bean seed in a recycled container and watch it grow on your windowsill.
Just like you, beans grow fast, so water it every day and watch to see it grow. You are a gardener now! Do you see it pushing up through the soil? How many days until it sprouts? How tall did it grow in the first day?
Method 2: Native Flower Seed Balls
Suggested for kids pre-school age and up
Get messy and make your own native flower seed ball to grow flowers that will benefit pollinators.
Native Flower Seed Balls Recipe
2 parts potting soil

4 parts clay (dry or wet)
1–2 parts water
1 part seeds
Mix the soil, clay, and water together in a bowl or tub. Knead thoroughly until there are no lumps. Add seeds. Roll the mixture into marble or superball sized balls. Let dry for 24-48 hours before you sow or store. Store them in cardboard or paper bags until use. Do not use plastic. Disperse the balls in vacant city lots, along railroad tracks, or in gardens. That is how guerilla gardening started. 
Did you know that bees, wasps, hummingbirds, butterflies, moths, beetles, flies, and even bats can pollinate? What pollinators do you see around your home?
Let's start a virtual garden, post your seed photos to your social media pages and tag us with #MadisonChildrensMuseum and #MCMatHome, or join our MCM Members & Friends Facebook Page and post your pictures there.
(Seed distribution is now concluded for this project, but you can get seeds at your local garden center to do this project at home!)
---



Paper Quilt Project
While we're away, the museum is taking a little nap. We can keep it snug and warm by working together to create a paper quilt with YOUR art! Collaborative art projects have always been a special part of MCM and can make us feel like we're not so far apart after all.
Follow the instructions below to create a paper quilt square and send it back to the museum. We'll put all the members' quilt squares together to create a HUGE paper quilt to wrap the museum. When its time to wake up the museum, you can visit and see your paper quilt. (In the meantime, we'll post updates on our social media accounts so you can watch the quilt grow.)
Project Steps:
Take a piece of paper and have your adult make it into a square shape, any size square is great. 

Get your art supplies! Add color, glitter, string, add any old thing to make your quilt square your own.

Put your name on the back.

Have your adult 

mail your quilt square to the address below OR drop off your square at the museum. (We will place a collection box inside our Little Free Library near the front entrance, be sure to wash your hands after touching the door.) Please put your square in an envelope to keep it safe—and it's ok to fold.

Madison Children's Museum
100 N. Hamilton St.
Madison, WI  53703
Stay tuned on our social media pages to see all the squares as they come in and build a huge, warm, snuggly quilt for our museum. 
Project Update:
The quilt squares have started arriving. Please keep them coming so we can grow our quilt.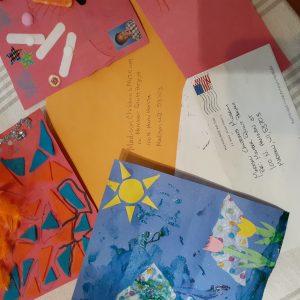 ---