New Exhibits & Installations
We offer numerous opportunities for children and their caregivers to engage deeply with the arts. The newest additions to our museum are listed below:
---
Stitch in Time: Home Sewing Traditions in Madison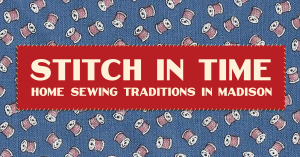 Opening June 5, 2019
When your grandparents or great-grandparents were children, most clothing was home-sewn, not bought in a store. After World War II, many kids took sewing classes at school or in community centers to learn how to make and repair their own clothing. Sewing is still an important skill that takes time to learn, since it involves counting, measuring, designing, and paying attention to small details. Find the seams in the shirt you are wearing now. How many pieces were sewn together to make your shirt? If you could sew anything, what would it be?
Stitch in Time is part of Madison Children's Museum's rotating Windows to the Past exhibit space. Next to our front desk, kids can go down a few steps and back in time to a special exhibit area dedicated to exploring Madison's past. Interact with historical objects, play pretend and learn what life was like for other generations of children living in Wisconsin.
---
Sidewalk Suprise: The Crossroads of Art & Science
Opened October 2018
The Crossroads of Art & Science was created by the UW-Madison Chemistry Department's scientific glassblower, Tracy Owen Drier, who also created the art piece at the beginning of our Wayback Machine exhibit, in Possible–opolis.
Most people associate glassblowing with art, but it is also essential for scientific research. In order to conduct experiments, chemists need specially-designed glassware that can only be made by hand. This equipment is made from a special type of glass (called Borosilicate) that can withstand sudden and extreme temperature changes.
The Crossroads of Art & Science will be on display in Madison Children's Museum's Community Concourse until Summer 2019.
events
No upcoming events listed.