Poop Day (observed)
February 2, 2019 @ 10:00 am

-

4:00 pm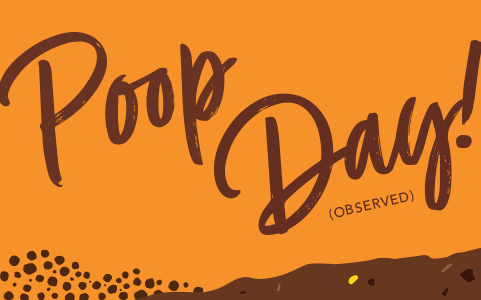 Madison Children's Museum holds our third annual celebration of National Poop Day (observed)!
History of National Poop Day at Madison Children's Museum:
During our 2016 Polling Place election, kids passed a referendum to celebrate National Poop day at the museum. National Poop Day is a holiday celebrated on the day when municipalities supposedly report the most, how-can-we-say-it-delicately, activity in their sewage systems — the day after the Super Bowl. Poop Day is a fun way to explore an aspect of human life that's important to our daily health, and which also claims an outsized share of attention in the world of small children.
Highlights (or, depending on one's perspective, lowlights) of the day will include:
Everybody Poops Wildernest Story Time
Enjoy a reading of the international bestseller Everyone Poops by Taro Gomi to kick off the day at 10 a.m.
Possible-opolis Investigation Stations
Wonderful World of Poop: What is poop and where does it come from? 10 a.m.–noon
Learn about the human digestive system with UW Medical School students, 10 a.m.-noon
Meet reptiles that poop, with Madison Area Herpetological Society, 10 a.m.-noon
Madison College STEM Center, 10 a.m.-2 p.m.
Unicorn Poop Factory, 2–4 p.m.
Learn where your poop travels with Madison Metropolitan Sewerage District, 2-4 p.m.
Art Studio
Craft with elephant dung paper (while supplies last), 10 a.m.–4 p.m.
Craft a "Number Two" pencil with a poop emoji topper, 10 a.m.–4 p.m.
Rooftop Clubhouse
Examine animal scat under the microscope, 10 a.m.–4 p.m.
Cast models of animal scat, 10:30 a.m.–12 p.m.
Related Events