Pi Day
March 14, 2015 @ 9:30 am

-

5:00 pm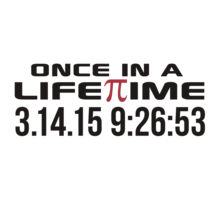 If this winter has you running in circles, or feeling irrational join us March 14 for  Pi Day Celebrations.
The number π is a mathematical constant, the ratio of a circle's circumference to its diameter, commonly approximated as 3.1415926. It has been represented by the Greek letter "π" since the mid-18th century, though it is also sometimes spelled out as "pi"
Admission all day will be $3.14 and we will open at 9:26 a.m.
Take the Pi Mile Challenge! Check out a pedometer and see if you can walk enough steps that equal 3.14 miles or 3.14 kilometers.
Show your love of pi through poetry with Pi-Ku in our Art Studio
Circle dances at 11 a.m. , circle hunts, and an almost infinite paper pi chain will "'round" out our love of math and pi.
Related Events