Mud Day
June 29, 2018 @ 10:00 am

-

4:00 pm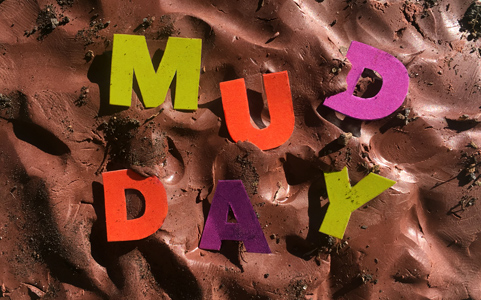 Joins us for squishy, messy fun as we celebrate International Mud Day!
International Mud Day was dreamed up by educators in 2009 and launched in 2011 at the World Forum for Early Childhood Care and Education. Since then, thousands of schools, early learning centers and families from around the world have taken up the challenge to play in mud on the 29th of June.  Muddy play help kids connect with the Earth in a tactile, immediate way.
Mildly-messy activities:
Muddy Portraits, on our paint wall in the Art Studio, all day
Scavenger Hunt, find exhibits built with mud, all day
Moderately-messy activities:
Cob Construction, at the Rooftop Ramble, 11 a.m.–noon
Build your own cob creations. Cob is a natural building material made from subsoil, water, and straw.
Frontier Science, at the Log Cabin, 1–3 p.m.
How was mud used in the construction of our Log Cabin? Experiment with 1840s-era building technology at our cabin garden.
Wheel Pottery in the Art Studio, 3–4 p.m.
Take a spin and throw some clay with our pottery wheel.
Mega-messy activities:
Magnificent Mud Play Zone in the Back Lot, 10 a.m.-noon
Sensory play and art-making in the mud behind the museum, near the Log Cabin entrance. Dress for mess and consider bringing a change of clothes. A limited number of smocks and towels will be available, along with a rinse-off station.
All activities are FREE with museum membership or admission, while supplies last. No pre-registration required.
Related Events