I Am Jazz Community Book Reading with Sarah McBride
December 7, 2017 @ 6:00 pm

-

8:00 pm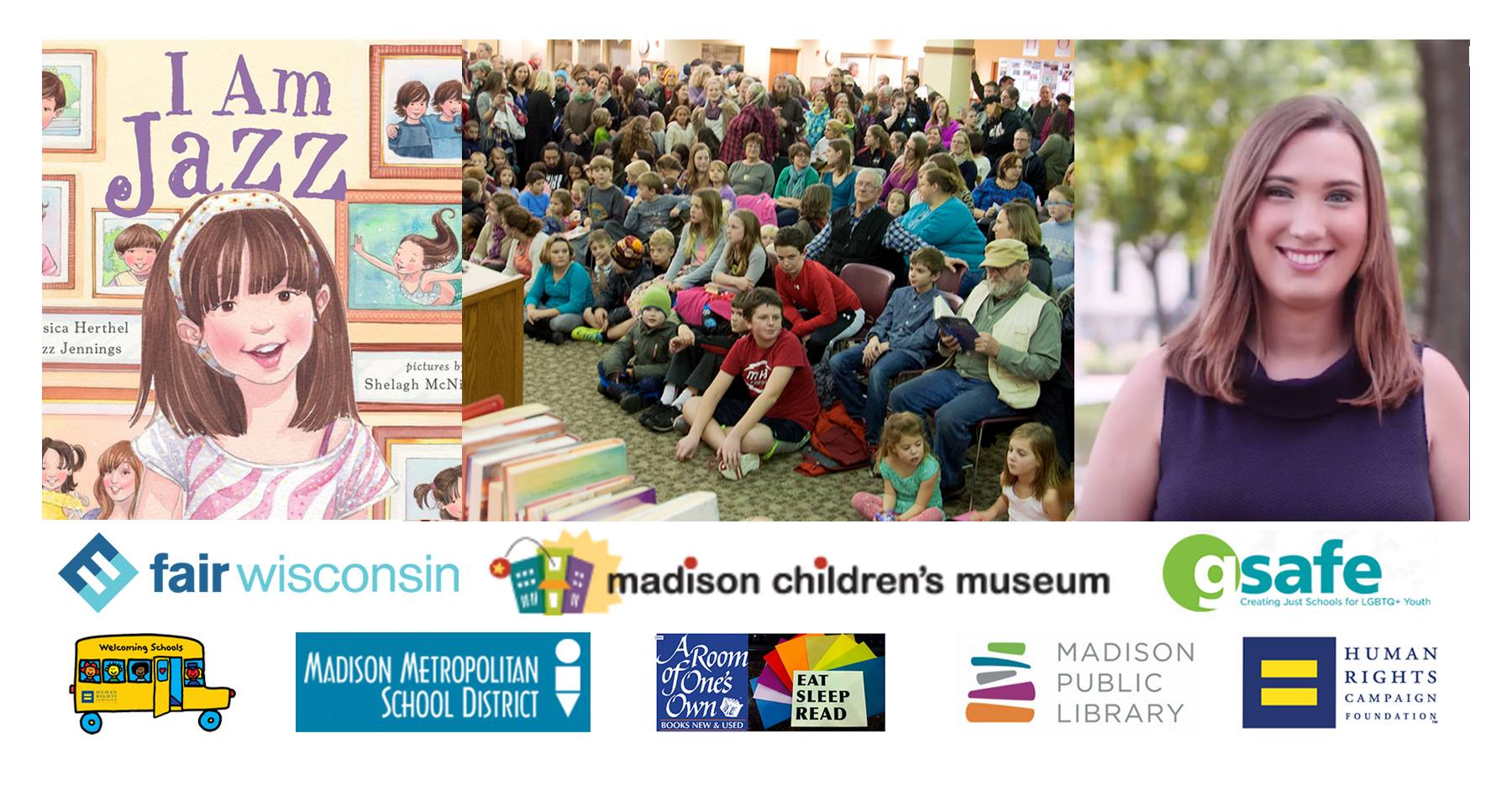 Madison Children's Museum is pleased to partner with the Human Rights Campaign, Welcoming Schools, the Madison Metropolitan School District, and others to present this special event. The museum will be open late with free admission for event attendees.
You must register on the Human Rights Campaign's webpage to attend.
For more information and updates please see the event Facebook page.
***
Join us for the 3rd annual "I Am Jazz" Community Book Reading — a FREE family event including art activities, pizza, and ice cream with rainbow sprinkles! All are welcome to join us.
In these challenging times, show your support for transgender, non-binary and gender expansive youth and children.
Sarah McBride will be reading the book "I Am Jazz," a picture book based on childhood experiences of transgender teen, Jazz Jennings. Sarah is the National Press Secretary for the Human Rights Campaign. She was the first openly transgender person to address a major party political convention at the 2016 Democratic National Convention in Philadelphia.
Jen Cheatham, Madison Metropolitan School Department (MMSD) superintendent, will also be speaking. MMSD is a "school district that values and celebrates diversity unequivocally."
This event began in Mount Horeb in early December 2015 when over 600 community members attended readings of "I Am Jazz" at the Mt. Horeb Public Library hosted by Amy Lyle and at the Mt. Horeb High School hosted by SAGA in support of a young transgender girl in their community.
This event is co-sponsored by Welcoming Schools, The Human Rights Campaign Foundation, MMSD, GSAFE, A Room of One's Own Books, The Madison Public Library, Fair Wisconsin and the Madison Children's Museum. Sponsoring organizations will have information tables and A Room Of One's Own will be selling gender inclusive books.
***
Únase a nosotros para la 3ra lectura abierta a la comunidad del libro "I Am Jazz" — un evento familiar GRATUITO que incluye actividades de arte, pizza y helado con chispitas de dulce. ¡Invitamos a todo el público a participar de este evento!
En estos tiempos difíciles, es importante demostrar su apoyo a jóvenes y niños(as) transgénero, de género no binarios y de género expansivo.
Sarah McBride leerá el libro "I Am Jazz", un libro ilustrado basado en las experiencias infantiles de una adolescente transgénero, Jazz Jennings. Sarah es la Secretaria de Prensa Nacional de la Campaña de Derechos Humanos (HRC, por sus siglas en inglés). Ella fue la primera persona abiertamente transgénero en pronunciarse durante la convención política de un partido importante: la Convención Nacional Demócrata de 2016, en Philadelphia.
Contaremos con la participación de Jen Cheatham, superintendente del Madison Metropolitan School District (MMSD). MMSD es un "distrito escolar que valora y celebra la diversidad de manera inequívoca".
Este evento comenzó en Mount Horeb a principios de diciembre de 2015 cuando más de 600 miembros de la comunidad asistieron a las lecturas de "Yo soy Jazz" en el Biblioteca Pública de Mount Horeb organizada por Amy Lyle y en la Escuela Secundaria Mount Horeb auspiciada por SAGA, en apoyo de una joven transgénero en su comunidad.
Este evento es copatrocinado por el programa de Escuelas Acogedoras o Welcoming Schools de la Fundación Human Rights Campaign, MMSD, GSAFE, A Room of One's Own Books, la Biblioteca Pública de Madison, Fair Wisconsin y el Madison Children's Museum.
Las organizaciones patrocinadoras tendrán mesas de información y A Room Of One's Own ofrecerá libros inclusivos de género.
Related Events